MEETING WITH PROFESSIONALS | ROUND TABLE: VIDEO ART PROTOCOLS
jueves, 21 feb. 16:00
Agenda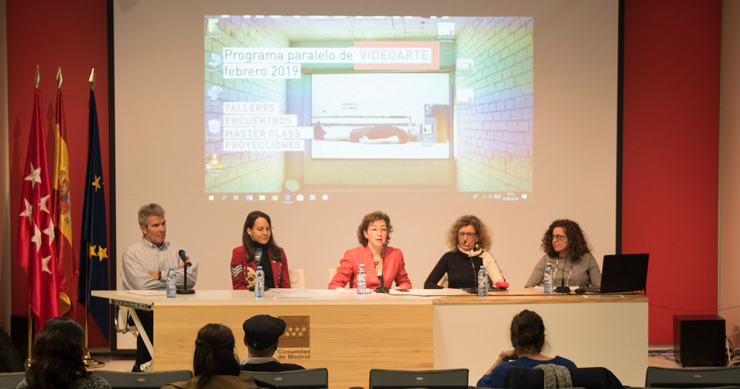 21ST FEB 2019 | 5-6.45 pm | Auditorium SALA ALCALÁ 31
The meeting gathers collectors, gallerists, festivals, fairs, artists and other agents involved in the production, distribution, sale, exhibition and dissemination of video art at present. The goal is to create a space for reflection and debate to raise issues and proposals according to the new social and creative paradigms.
ROUND TABLE: VIDEO ART PROTOCOLS
1.Protocols (exhibition, collecting, preservation and purchase). Idoia Hormaza de Prada, reseracher.
2.What to buy?. Eva Ruiz, art fairs and video art collectors advisor.
3.What boosts to buy an artwork? Teresa Sapey collector specialised in video art.
4.How to make a right contract when purchasing video art? Enrich Abogados, law firm specialised in video art.
Moderating: Marta Pérez Ibáñez**
ADDITIONAL RESOURCES:
EXPOSICIÓN, COLECCIÓN Y PRESERVACIÓN DE VÍDEO MONOCANAL, COMPUTER BASED ART Y VIDEOINSTALACIÓN
Electronic Arts Intermix (EAI), apartado de preservación realizado por Independent Media Arts Preservation (IMAP) VER AQUÍ
RECURSOS DE CONSERVACIÓN PARA COLECCIONISTAS
New Art Trust (NAT): San Francisco Museum of Modern Art (SFMOMA), Museum of Modern Art (MoMA), Tate. VER AQUÍ
RECURSOS LEGALES
"Videoarte y derechos de propiedad intelectual" y "La obra de videoarte y el contrato para su adquisición". VER AQUÍ
SPEAKERS
Idoia Hormaza of Prada She is a writer of contemporary art in several media (FAC, AAL, ANTAE) and video writer (TEMEX, AAL). She also works as an educational operator (La Biennale di Venezia, Guggenheim Museum Bilbao), a coordinator and collaborator of events (EHU + ETSA, FAC, PROYECTOR) of contemporary art with a drift towards the specialisation in the resources of the ACT, and as an assistant to the curator Alicia Chillida.
Eva Ruíz She has been working for years to approach contemporary art to different audiences. She was a gallerist, a collections advisor and currently a strategy consultant for agents in the art market. As an ambassador of international fairs, some of her clients are The Armory Show NY, Arco Madrid, ArtLima or Estampa, among others, and she specialised in unique programs for collectors. She is a founding partner of Arternativ, an international consulting agency for fairs, galleries and collectors. She provided advice to PROYECTOR since 2016. Her leitmotiv is "We connect the local in the global".
Teresa Sapey She studied at the Polytechnic School of Turin where she graduated with honours in 1985. Later, she studied at Paris Fine Arts and a master's degree in architecture. It was there where she became interested in acquiring photography, although she soon opted for the 'art in motion' which includes videos, performances, video art... Her activity as a collector was mainly focused on video, and some of the artworks were part of exhibitions at the Centro de Arte Dos de Mayo in Móstoles and the Lázaro Galdiano Museum. Her pieces particularly maintain a thematic nexus around space, its use, its occupation, or its construction (architecture). In addition, Teresa Sapey is part of the Association 9915 and patron of the Prado Museum.
Enrich Lawyers A team of lawyers who advise on commercial, corporate, international, and litigation and arbitration law matters. Similarly, the department of "Copyr@it" integrates specialists in intellectual property and image rights, with training and experience in the different areas of application of this branch of law, such as film, music, art, cultural industries in general, the entertainment and sports sectors, the artistic heritage and information technologies. They developed the standard video art contract for the LOOP festival.
Marta Pérez Ibáñez She is a specialist in the contemporary art market, both in management and in teaching, sectors in which she has been working for more than twenty years. Her most recent activity focuses on teaching, face-to-face and online, in contemporary art and management of galleries, as well as communication and marketing in art and culture. She is a researcher in the art market, a lecturer at the Antonio de Nebrija University and other public and private institutions, and a specialist editor in the Spanish art market at the German publishing house De Gruyter.