Clàudia Valsells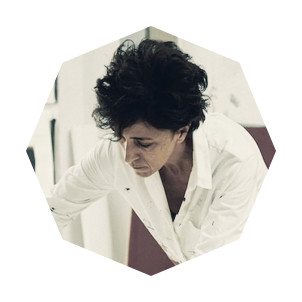 Clàudia Valsells
Barcelona, 1969
Clàudia Valsells is a multidisciplinary creator, she discovered painting through mural painting. As a visual artist, she never tires of exploring the possibilities of colour and form. Based on her reflections as an artist and her experience in trend prediction and mural painting in interior design and architecture, she brings to all her work a distinctive, harmonious, rhythmic and sensitive approach, with colour as a primary tool. A self-taught painter, in 1992 she went to study mural painting at the Institut Supérieur de Peinture Van Der Kelen et Logelain in Brussels, Belgium.
For 20 years she worked on projects in Spain and abroad. Her role was to convey the value of colour and its texture in the decoration of interior spaces. Working closely with professionals in the fields of art, design, and architecture, she managed and produced the painting of the Gran Teatre del Liceu opera house in Barcelona and painting for luxury hotels in Barcelona, Seville, Córdoba, Paris and Berlin, as well as numerous private homes, with the best architects. She also produced and edited two colour cards of her own, with more than 200 references, which have been used as colour communication tools by Spain's best architects. Her profession as a muralist has always been linked to that of the colourist and the artistic painting.
Clàudia is currently focusing all her professional activity on her vocation as an artist. Her work adorns hotels and restaurants in Spain and abroad. She has exhibited on several occasions in the Miquel Alzueta gallery in Barcelona, the Palau de Casavells gallery in the Baix Empordà region of Catalonia, the Sala Vinçon gallery in Barcelona and the Traç art school gallery in Barcelona, among others.
This artist exhibits in the following galleries
Artist's works