Art Madrid'23 – Javier Mariscal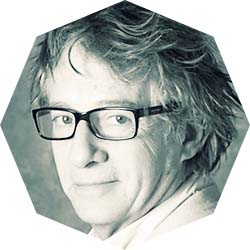 Javier Mariscal
Almazora, 1970
Painter, designer, comic book artist... he works in all kinds of media and artistic disciplines: graphic design, landscaping, painting, sculpture, illustration, animation, product design, interior design, multimedia; without ever betraying his identity as an artist. His great speciality is drawing, which is why his attitude to any commission is artistic, using a universal and timeless language that adds value, uniqueness and emotion to his proposals. His daring goes hand in hand with the great challenges he has taken on, from the mascot for the Barcelona Olympic Games to the global design of a luxury hotel, the illustration of the covers of the New Yorker, El País and the Japanese Apo or the creation of the animated film Chico & Rita with Fernando Trueba, winner of a Goya and nominated for the Oscars as best animated film.
Awarded the "National Design Award", member of Alliance Graphique Internationale, he exhibits at the Centre Georges Pompidou in Paris, participates in Kassel Documentary and has several retrospective exhibitions in centres such as the London Design Museum, La Pedrera or in South Korea.
Mariscal is currently working on the preliminary drawings for "They Shot the Piano Player", an animated documentary film co-directed with Fernando Trueba, a comic about the formation of our planet and the creatures that live on it, a book about Havana and has just presented the Los Angeles travel diary for the French brand Louis Vuitton. His international projection and media repercussion accompany him in his conferences and workshops all over the world.
This artist exhibits in the following galleries