Art Madrid'23 – Laura Iniesta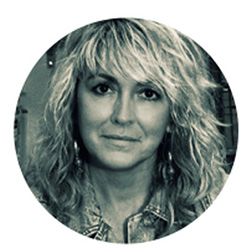 Laura Iniesta
Barcelona, 1955
Laura Iniesta was born in Barcelona in 1955. She studied art in Barcelona and her first exhibitions were also in Barcelona.
She exhibited and lived in America for a long period during which she was impressed by the exuberance of the tropics and this experience was reflected positively in her work. There she has the opportunity to meet and share experiences with great contemporary painters such as Oswaldo Guayasamín, among others. Her Mediterranean heart brought her back to Barcelona, where she definitively set up her studio and from there she worked on her many exhibitions and projects at national and international level, in China, the Arab Emirates, Germany, Denmark, Holland, France and the USA, among other countries.
Her work, gestural, material and direct with great visual impact and sense of balance, has an enormous aesthetic force, elegance and great capacity to move the viewer, who is never left indifferent.
This artist exhibits in the following galleries