ART MADRID SCHOLARSHIP: LEARN PHOTOGRAPHY FROM ZERO WITH MADPHOTO
Feb 5, 2019
art madrid
For the second consecutive year, we are very happy to announce the scholarship granted by Art Madrid to be trained at the Madphoto Photography School: full scholarship valued in 1990€ to study photography from scratch!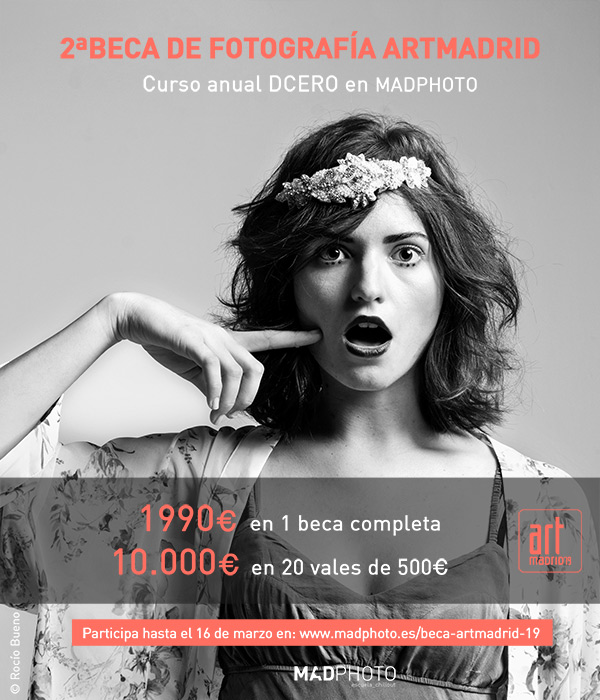 If you have always liked photography but you have not been able to dedicate it enough time or you just want to get started in this artistic discipline, surely you would like to enjoy this scholarship that covers the DCERO annual course of Madphoto, with a total of 96 on-site hours. To apply for the scholarship you just have to enter the Madphoto website and consult the participation terms. The deadline is the 18th of March. The School team will hold a raffle and the winner of the scholarship will be announced during the month of March.
This initial course is a great opportunity to really learn how to get the most out of your camera, as well as a great chance to develop your technique and creativity. During one year you can learn how to get the best framing, the most successful compositions or the best light effects. With the DCERO course of Madphoto, you will definitely discover all your potential as a photographer.
There are two options: the first, on Tuesday afternoons beginning on April the 2nd; and the second, during the Mondays and Thursdays mornings from April the 22nd. If you do not turn out to be the winner, we also have good news for you because Art Madrid grants 20 coupons of 500€ discount for those who register before March the 25th in any of the two DCERO courses of the Madphoto School.
From Art Madrid and MADPHOTO we encourage you to delve into the exciting world of photography. Try it!