Jesús Curiá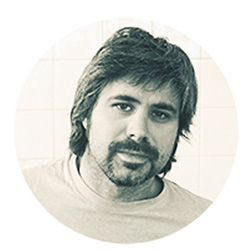 Jesús Curiá
Madrid, 1969
Jesús Curiá (Madrid, 1969) is pursuing his undergraduate and doctoral studies at the Complutense University of Madrid. He was Professor of Sculpture at the Francisco de Vitoria University from 2011-2013. He has exhibited internationally in places such as Chicago, Paris, New York, Cologne, Karlsruhe, Kuala Lumpur, Brussels, Amsterdam, London, Milan, Stockholm, Oslo, Madrid, Paris or Singapore among others. During the last years it has been very successful at International Fairs around the world.
Jesús Curiá is above all a sculptor by trade. In his workshop his hands are recreated in the different materials with which he works: bronze, steel, iron, marble and wood. It is able to bring out the quality of the texture of each of them, and gives the patinas an almost infinite variety of subtleties, multiple treatments in the woods, and although, at first glance, it is a classic choice of material, never stop provoking the viewer with the daring combination and juxtaposition that makes them
The figure is the absolute protagonist in its iconography, it is a figure that does not have a defined face, it is in a state of constant transition. It tends towards idealization and reduces itself to the essential in order to focus on what it wants to evoke, and what it wants to evoke is above all beauty, a type of timeless and ethereal beauty that is also tinged with an ambiguity between the modern and the modern. ancient with a lot of emphasis on ethnicity, especially African and Asian, They are mysterious beings that give off a supernatural magnetism.
This artist exhibits in the following galleries
Artist's works