Maxim Wakultschik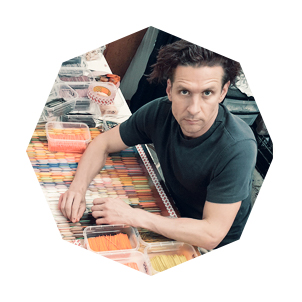 Maxim Wakultschik
Düsseldorf, 1973
Maxim Wakultschik uses art as a medium and vehicle to explore the uniqueness of everyday encounters. He invites us to reflect his works in a meditative way. He depicts the concentration of the moment, the look in the eye as a concentrated, essential image. Like a kind of symbol or brand it might be perceived quickly and catchy, memorable and first and foremost continue to have an energetic effect. Mirror reflections, his skillful application of light and shadow and in different nuances shimmering, gleaming colours bring back memories of cult figures to be worshiped.
Wakultschik likes to confuse the beholder with the complexity of his works. He builds up an illusion, pretends a presumed reality and offers another vision at the same time. His works are only completed by the beholder, his interaction and reflection.
Seriality lies at the core of Wakultschik's work. He has been working on Optical Portraits since 2015. This year, he presents his new series, Carpets, which is sparked by his interest in tapestries.
This artist exhibits in the following galleries
Artist's works