DOMPAL: TRADITION AND EXPERIENCE
Feb 14, 2020
art madrid
Tradition and experience are the terms that define DOMPAL. For almost 60 years, the company has been working for excellence in Jabugo (Huelva) and Guijuelo (Salamanca). From the beginning in 1962, the architect of the company, Francisco Martín Moreno, had a very clear objective: to obtain the recognition of its clients as the best supplier of each of its products.
It is in Jabugo and Guijuelo where the holm and cork oaks become the ideal habitat for the Iberian pig, and it is in these areas that DOMPAL establishes its base of operations. DOMPAL's master ham makers are true artists, and in the manner of a goldsmith, they are capable of carving the Jewel of Bellota into exclusive pieces with unique flavours, using top quality raw materials.

Currently, the company, under the General Management of Juan Carlos Tejero, has consolidated itself as a leader in the sector, projecting itself into the future with a new Production Centre in Jabugo equipped with IFS and BRC certification, which will allow it to satisfy the most demanding demands, setting itself the challenge for the near future of international trading of its excellent product.
DOMPAL has a large warehouse in Alcobendas (Madrid), where it stores more than 50,000 hams from all the protected designations of origin, as well as a variety of gourmet products to accompany the ham. DOMPAL's headquarters smells of "well-made, healthy, and wholesome product".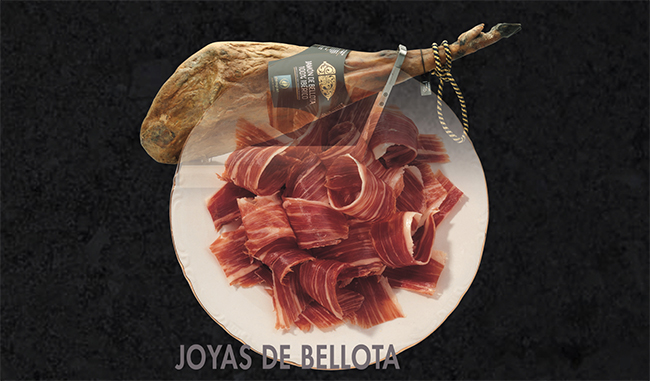 In 2017, in order to be able to cover the growing offer and expand the company nationally and internationally, DOMPAL built up a new dryer of about 5,000 square meters with facilities adapted to the latest technological advances, but honestly preserving the tradition of Jabugo's hams. In the traditional way, the surface is distributed in three floors; with natural dryers in the upper part, elaboration in the ground floor and a lower part devoted to the wine cellar.
DOMPAL distributes its products in more than 2,000 establishments (restaurants, specialised and gourmet shops) in Spain and Europe, and has received numerous quality awards and national and international recognition. Although, as its team points out: "our best award is to have such emblematic clients as El Corte Inglés or Paradores Nacionales of Spain, who place their trust in us and our products to offer the highest quality to their customers".

Some of the most outstanding awards that DOMPAL has received are: "Medalla de oro al Mejor Jamón de Bellota Calidad 5 Dompales" of the German Butchers Association (Stuttgart, 2006), "Trofeo al mejor jamón ibérico de bellota de Castilla y León 2015", granted by the hoteliers' association of Castilla León, "Premio FES mejor empresario en el exterior, Francisco Martín Moreno, presidente de Domingo del Palacio S.A", "Ganador al mejor jamón ibérico de Cebo de Castilla y León 2016", granted by the hoteliers' association of Castilla León and "Triple Medalla de Oro en la feria cárnica IFFA 2019 de Alemania", among others.