MARK RYDEN AND HIS WONDER CHAMBER
Dec 27, 2016
exhibitions
The meat train, oil on canvas, 2000
Mark Ryden, graduated in 1987 at the Art Center Collage des Desing in Pasadena. It began to draw attention, towards the decade of the 90 with its pop surrealism, dragging to multitude of followers and artists ready to embrace that current. Two of the characteristics of this artist are, perseverance and strength. These two facets made him overcome the initial surrealistic strategies, choosing icons loaded with cultural connotations.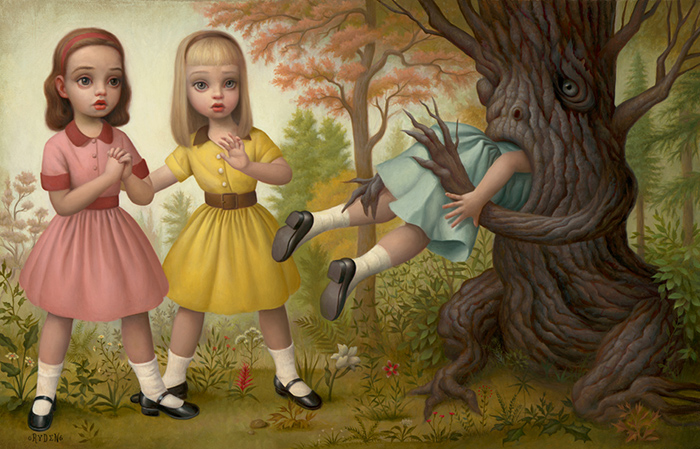 Girl eaten by tree, oil on canvas 2006
Ryden's vocabulary, encrypted and naive in some cases, crosses the thin line between the nostalgic cliché and the haunting archetype. Seduced by its infinitely detailed and meticulously enamelled surfaces, the viewer faces the juxtaposition of the innocence of childhood and the mysterious voids of the soul. A subtle unease dwells in his paintings. The exhibition, "House of Wonders", has 55 works spanning 20 years of creation. Not only are they small formats, but they coexist with large works and even sculpture.
Grotto of the Old Mass, oil on canvas, 2008
Mark Ryden is the father of "Lowbrow Art", this movement emerged in Los Angeles, California in the 20th century, began to take on special importance in the 1990s. The essence of this movement is to reject the intellectual and elitist pretensions associated with the consumption of contemporary art, and in turn, nourished by icons of American popular culture such as cartoon characters, tattoos or the aesthetics of graffiti , among other. We must also add the interpretation of Catholic and Masonic iconographies. With all this information, the artist creates his own collective imagination.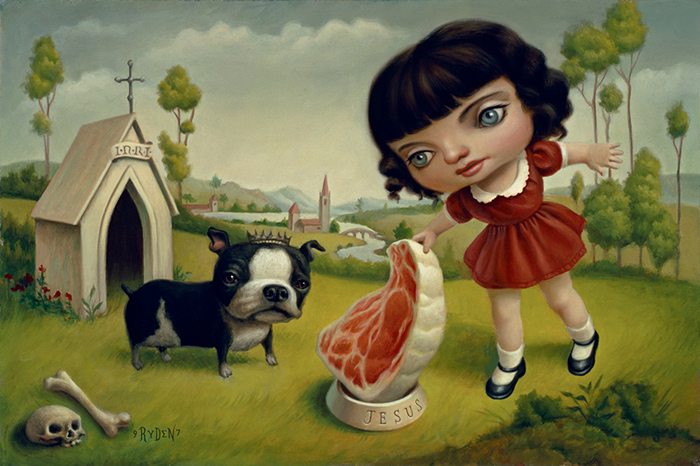 A dog named jesus, oil on paper, 1997
The mysterious characteristics of the classic and the fantastic, materialize with the figures of large round eyes and smiling. This exhibition, will be in force until March 5 at the Center of Contemporary Art of Malaga, if you are in the area, do not dude to visit this exhibition in Europe. You do not miss the hype.