3 Punts Galery in Art Madrid15
Jan 8, 2015
art madrid
It is called Thierry Guetta and was born in Paris in 1966 but everyone knows him as Mr. Brainwash, one of the most important artists of contemporary urban art. In 2014 he exhibited for the first time in Spain with the Gallery 3 Punts (Barcelona) and he will be on February at the 10th anniversary edition of the fair Art Madrid.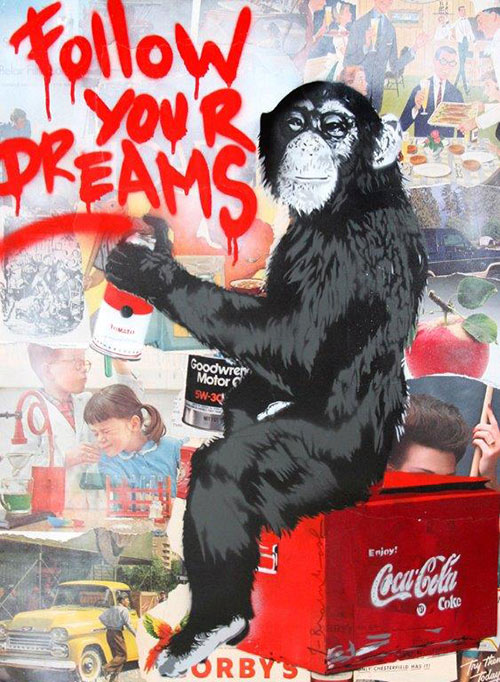 Life is Beautiful. Mr. Brainwash.
3Punts Gallery works for almost 20 years in the promotion of contemporary art in its various forms. Directed by Javier López and Eduard Duran, pays special attention to the work of new artists, no forgetting established career artists. In 2014 he made a great signing, the acclaimed street artist Mr. Brainwash.
With his hat and settled behind his camera, the French immigrant Thierry Guetta started collecting images about was what happening on the streets of Los Angeles, more specifically in its walls. They were the 90s of last century and graffiti flooded the cities. Obey, Space Invader and Banksy appeared in the media for their critical messages, its appropriation, its literal invasion of public space ... and, soon after, his arrival to the galleries, museums, and art criticism.
Tomato Spray. Mr. Brainwash.
Loving urban art, Guetta joined Shepard Fiery and traveled the world recording their stencils and wall paintings, his works and those of all urban artists who they crossed with... and so met Banksy, an essential influence who encouraged him to take another step, leaving the camera and creating his own signature: Mr. Brainwash was born.
With stickers, stencils and modifying and creating serial works already produced by others, Mr. Brainwash employs 25 assistants for help to "customize" great art that he scans, copy and paste with his style created to "wash the brain. He made a mega exhibition in 2008, Life is Beautiful, with a relentless communication strategy: a phrase from his friend Banksy: "Mr. Brainwash is a force of nature, is a phenomenon and I'm not saying in a good way. "
Media focused on L.A. and Mr.Brainwash, Madonna entrusts him the cover of his album Celebration in 2009 and in 2010 will end up being the protagonist of the documentary Exit trough the gift shop, made from footage recorded by Guetta and edited by Banksy. The movie got an Oscar nomination.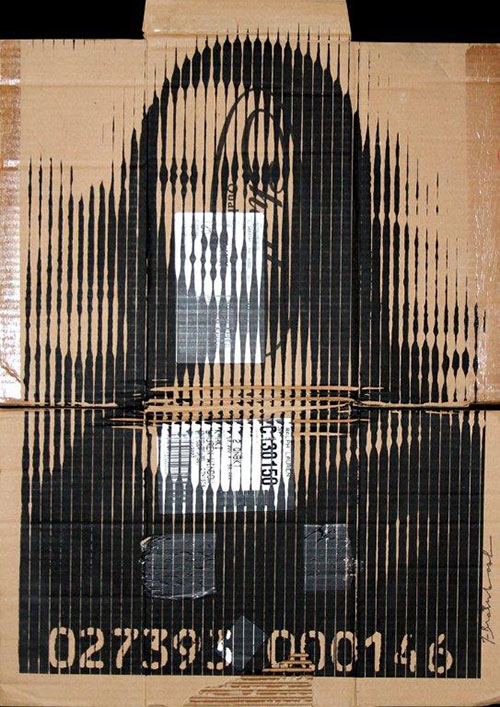 Mona Linesa. Mr. Brainwash.
Soon they come multitudinous exhibitions as Icons, Under Construction,... Mr. Brainwash exhibited in New York, Miami, Toronto, at the Olympic Games in London, Cape Town ... His work came to Spain, for the first time in November with 3 Punts Gallery in Barcelona and it also comes to Art Madrid 15 next February. 3Punts proposal brings his most representative works, with their POP stamp, silkscreen on canvas, cardboard and paper, icons of contemporary culture passed through the washing-brain of this graffiti artist.
Besides the works of Mr. Brainwash, 3 Punts Gallery brings Blek Le Rat, Efraïm Rodríguez, Gerard Mas, Ramón Surinyac, Samuel Salcedo y Sito Mújica.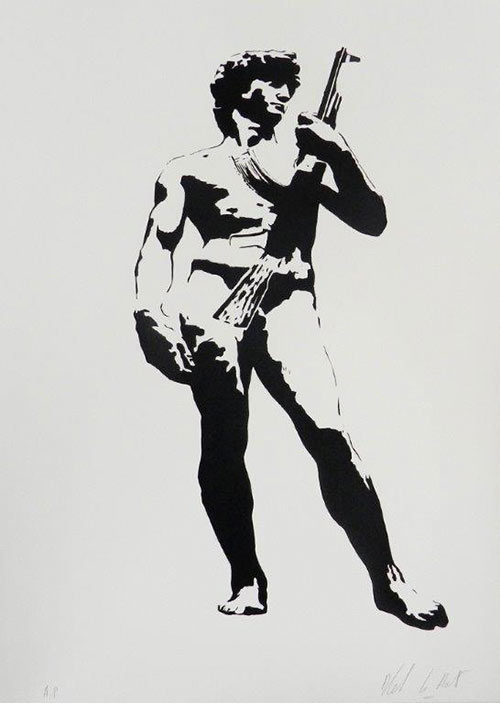 David. Blek Le Rat.