ALL READY FOR THE OPENING OF THE 13TH EDITION OF ART MADRID
Feb 19, 2018
art madrid
A few hours before the opening of doors - on Wednesday, February 21 - the atmosphere within one of the great fairs of the Week of Art is exciting. Come to Art Madrid'18 to enjoy art like never before!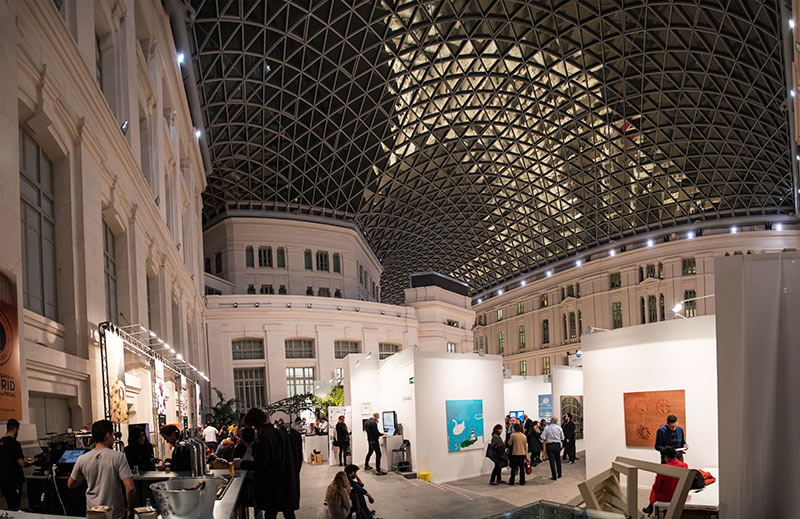 Carpet, cartels, paint, the staircase, be careful with that photograph... There are many months of work that precede the celebration of an event such as Art Madrid, one of the great fairs of the Art Week in Madrid, work of selection, contact and management of the participating galleries, the work of communication, the design of the graphic elements, the plan, the licenses, the technical sheets, the prices, the sending of invitations, the calendars, the parallel activities ... but at this point we would give our kingdom by a simple nail! A few hours before the opening of Art Madrid - tomorrow, Wednesday, February 21st at 11:00 am we open the doors of the CentroCentro Glass Gallery, and at 1:00 a wine will be served for the guests - all are nerves, but also an enormous confidence in the work done and in those who have helped us make it possible, our sponsors Suarez and Liquitex (who will have two spaces in the AM18 lounge area with activities that we will announce each day), our collaborator Ink and Movement, our media partner official Cultura Inquieta, or brands such as La Virgen brewery or the Pago de Cirsus winery that decided to ally with the fair for years and still accompany us.
At the official opening we will have the presence, among others, of the ambassadors of Germany, Brazil, Ukraine, France, Switzerland, Italy, Chile and the Ambassadors of Costa Rica and Jordan, example of the acceptance, Mr. Ryan Matheny Garrido, Aggregate Cultural Center of the Embassy of the United States, a good example of the importance that the fair already has among collectors and foreign professionals.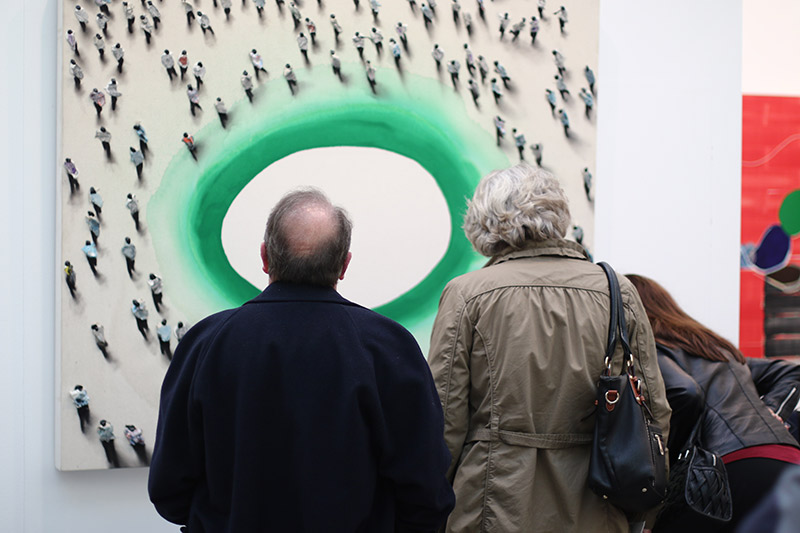 On the part of local institutions have confirmed their attendance D. Felipe Llamas, Chief of Staff of the Mayor's Office of Madrid and Dª. María Carmen Castell Díaz, Member of the Ordinary Permanent Commission of Culture and Sports of the Madrid City Council, as well as Dª. Alicia Durántez de Irezabal, D.G. of Cultural Heritage Community of Madrid. Subdirectorate General for Dissemination and Management and Dª. Elisa de Cabo de la Vega Deputy Director General for the Protection of the Historical Heritage of the Ministry of Culture MECD.
As a representation of cultural institutions and foundations we will have Juan Barja, Director of the Círculo de Bellas Artes, Javier del Campo of Fundación Caja de Burgos, with Dª. Fátima Sánchez Santiago, Director of Projects and Education Area of ​​the Botín Foundation, Dª. Leticia Martín, Manager Atlantic Center of Modern Art-CAAM, Mr. D. Michel Bertrand, Director of the Casa Velázquez, Dª. Laura Ramón Brogeras, manager of the Art Collection of the Fundación Telefónica or Dª. Elena Alonso, Director Carlos Amberes Foundation.
We are waiting for you all in # ArtMadrid18