Jean-Michel Basquiat in Guggenheim Museum Bilbao
Jul 2, 2015
exhibitions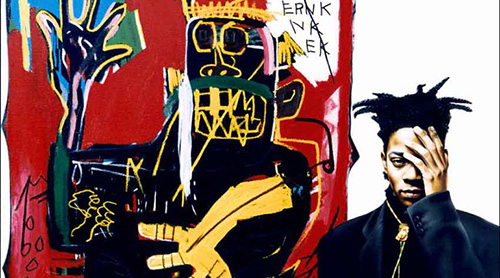 With an Haitian father and mother from Puerto Rico, Jean-Michel Basquiat (1960-1988) always defended its origins in the streets of Brooklyn, where he was born and raised, marking their facades, underground hydrants, their cars, walls, Dumpsters with paintings. He just turned 18, when he signed as SAMO (Same old shit, "the same old shit") and stood among teenagers in the neighborhood for his intellectual and artistic skills, skills that transformed their graffiti on allegations against social inequalities, by the defense of disadvantaged minorities, true graphic files on the harshness of the time in that city.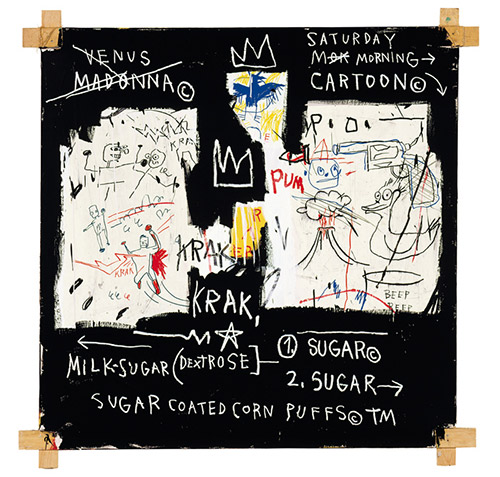 Panel de expertos, 1982.
His first solo exhibition, at age 21, showed those same lines, colors, this young and gifted nerve in dozens of large paintings, objects, papers, being the first graffiti artist (... with Keith Haring) on ??exhibit in a gallery Art, opening new doors to Fine Arts and all contemporary art. The show was a success and all the pieces were sold.
In 1982 he participated in Documenta VII and the Whitney Biennial and was in those years when the clever Andy Warlhol adopted him as fetish and they became inseparable, they portrayed each other and signed a friendship / admiration that transcends both. Basquiat's reputation grew as they performed exhibitions in North America and Europe; soon he became a prolific artist and media personality in the cultural field.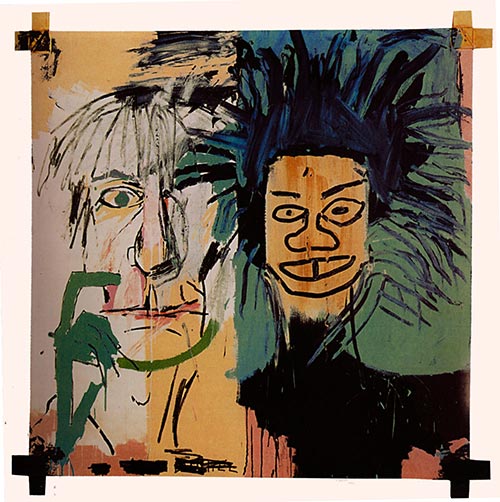 Jean-Michel Basquiat: Now is the time, is an exhibition organized by the Art Gallery of Ontario in partnership with the Guggenheim Museum Bilbao, explores some of the most important issues of the innovative work of Basquiat over a hundred paintings and drawings by the artist, ordered for the first time from a thematic perspective.
The exhibition is articulated in 8 sections: The street as a studio, Heroes and saints (homage to the "black man"), Claiming stories, Reflex (dedicated to racist episodes of his time, slavery), Dualities and double identity, Playing to cheat: drawings and provocations, a seventh section with collaborations with Warhol, Francesco Clemente, Keith Haring and Kenny Scharf, and finally, Sampling and scratching. Music, words and collage, their sources of inspiration.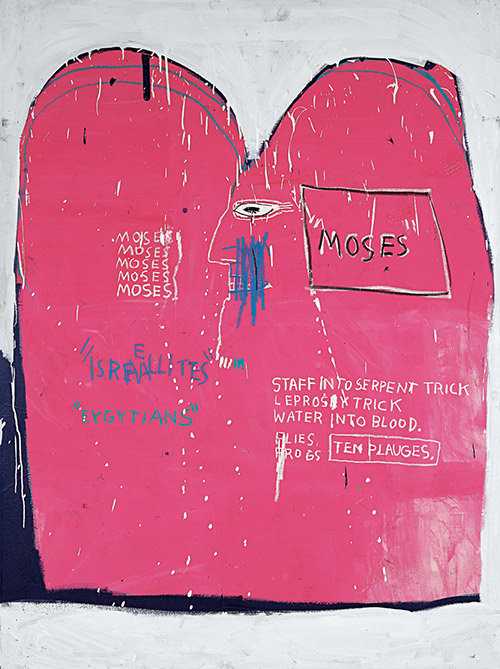 Moises y los egipcios, 1982.
His artistic perspective, in which Basquiat fit their entire universe, African-American history, his musical tastes, jazz, street drugs, friends, sports, news, through symbols, text, shapes and images Sometimes seemingly unrelated ... it continues to inspire many current artists and continues to pose to the viewer an invitation to think critically about the world around us.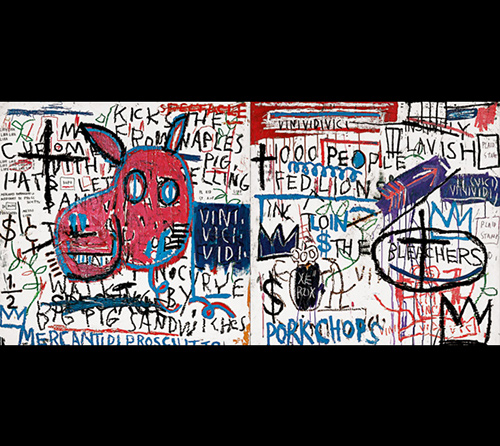 Los seis de Crimea, 1982.
El hombre de Nápoles, 1982.