CALLE urban art festival in Lavapies
May 31, 2016
calendar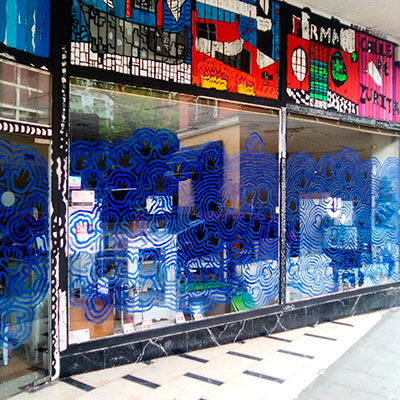 Live art, street art, community art, art for neighborhood, art in the neighborhood and BY the neighborhood, the festival C.A.L.L.E. It is three years dressing with art comercial facades, windows and exterior spaces of dozens of commercial premises in the Madrid neighborhood of Lavapies, ephemeral works that can be enjoyed giving a good walk through its streets until 5 June.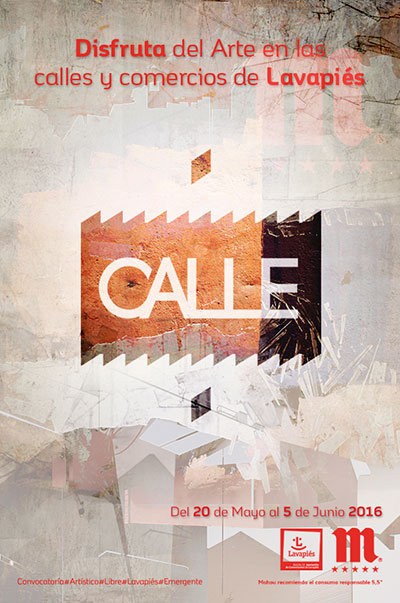 The initiative came from the Merchants Association of Lavapies to promote artistic creation in the neighborhood of an open and participatory manner and to contribute to your enjoyment in a closer way.
In this third edition of C.A.L.L.E. you can enjoy 60 artistic proposals that include mural painting, illustration, photography ... installation Participating artists are: Akesi Martinez | Alba & Anabel | Alejandro Ontiveros | Alicia Diaz | Alva Moca | Angela Moreno | Angulo | Brochka | Cali | Seaweed in the Soup Collective | Collective FIC (Flipin in Colours) | Concrete Streetart | Cova Ríos | Cuadal Street | Diana Coca | Dr. Anchovy | Dr Homes | Elia Nuñez Barez | Eltono | Enllama | Fabiola Correas | Collective HO | James Jorgensen | Jau Beibe | Krafcala | The Guilda 13 | The inverted wheel | Laura Palmer | Llo | Lowy | Marcos5an7uan | mesh_mescalito | MissGrandson | Limited muses | negativefeeling | Nekros | Nicolas Amazarray Bey | Noelinho | Nsn997 | Palau | Pedro Sega | poetika | Please | I witness | Rafa Bertone | Ramón Amorós | RBN | Ruben Streets | sero | Solanas - Diaz | Sonia de Viana | Mr. Mu | sue975 | supernode | Weaving spider | Tricroico | Ubuntu | Virginia Calvo | Will Yakome | ze Carrión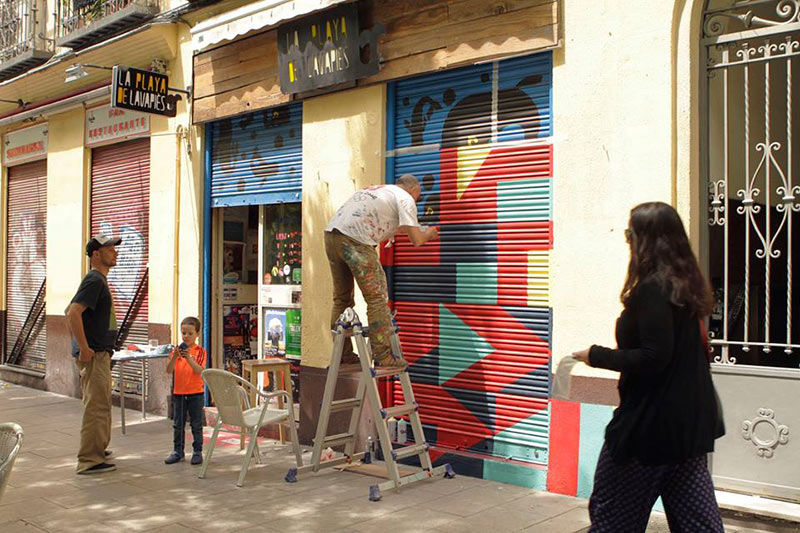 Among the proposals, we highlight the Eltono in La Playa de Lavapies. The graffiti artist, who worked in Madrid for a decade and now lives in France, use public space as support, study and inspiration and has a deep knowledge of the rhythms, changes and the nature of the street.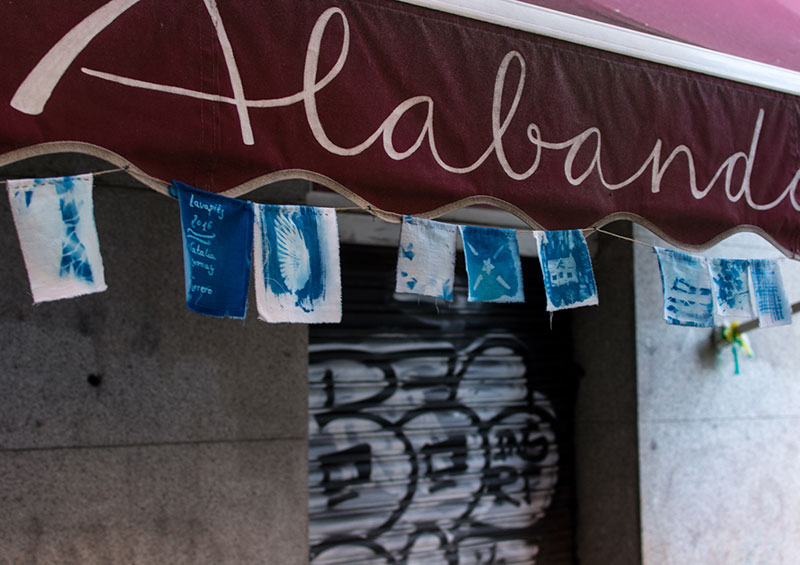 Another interesting proposal is the Collective Algas en la Sopa for Taberna Alabanda. They have reinterpreted the meaning of Tibetan flags with cyanotype, which originally hung so that the wind purify the wishes illustrated in them. "Materializes in blue, the ocean, which unites the different continents, the sky, under which all coexist. On canvas, plants and objects that convey the essence of the neighborhood and as a talisman to bring good wishes to the people of the future of Lavapies " they explain in the web site of C.A.L.L.E.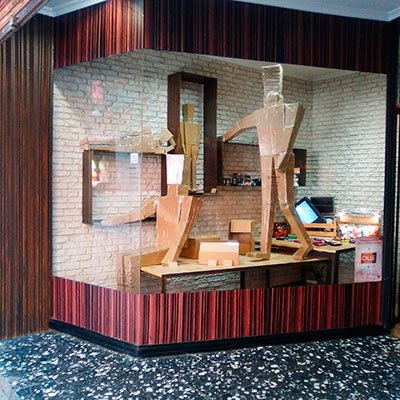 We can also see BOXMAN, creation of collective HO for the Tobacconist of Lavapies. A cardboard creature born from the very seriality of mass and impersonal production systems and is designed to repetitively be constructed from an everyday such as cardboard boxes object. His spirit seeks to give a different point of this material and its meaning.