Carol Rama exhibition in Macba museum (Barcelona)
Oct 22, 2014
exhibitions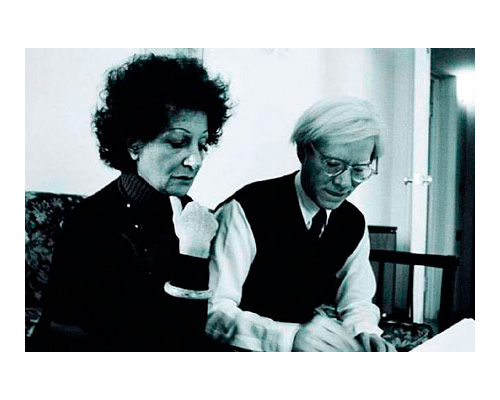 There are few things as rewarding for a museum as recover the work of a tangential art figure, veiled and forgotten by traditional historiography. It is the case of many women artists and the case of the Italian artist Carol Rama, essential B-Side of the XX century avant-garde, whose art can be enjoyed in the MACBA from 30 October until early 2015.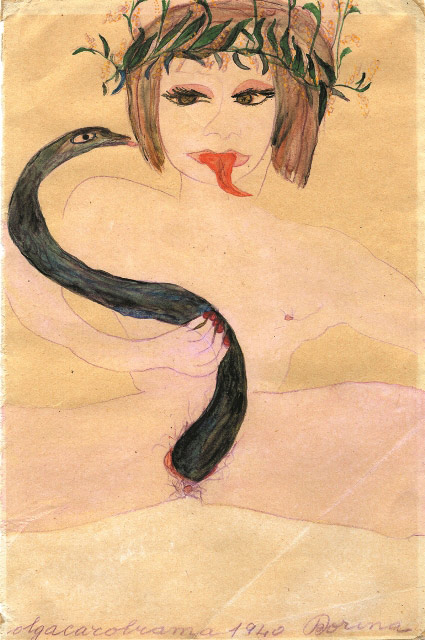 Dorina, 1940.
With an absolutely unique language, influenced by art brut, the informality, les Fauves, feminism and organic abstraction, Carol Rama (Turin, 1918) tries to challenge (with a long career of more than 70 years on active ) the traditional art narrative and the gender discourse itself, with a violent, subversive, sensual and polymorphic vision of art practice and of his own body. MACBA Museum it is not just "giving visibility to the work of Carol Rama" but joining her questions and doubts about the hegemonic concept of art and about the sensuality, the femenine symbol and the abjection.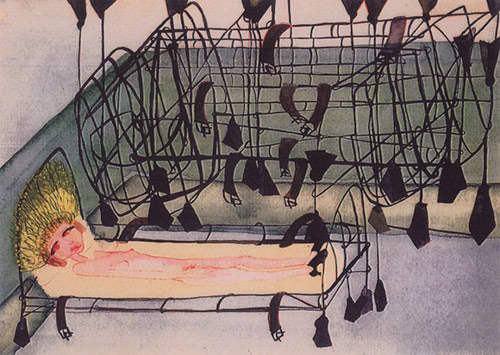 Apassionata, 1940.
In the 30s, Rama experiments with watercolors, lubricious, colors and stains to fill hundreds of papers with mutant nudes, tongues, genitals, eyes... with a work between psychoanalysis and the study the unconscious. After a long period, objects began to curdle in her work, ready mades, recycling, organic pieces, tires, nails, syringes, Arte Povera make her work even more pregnante ... more pornographic.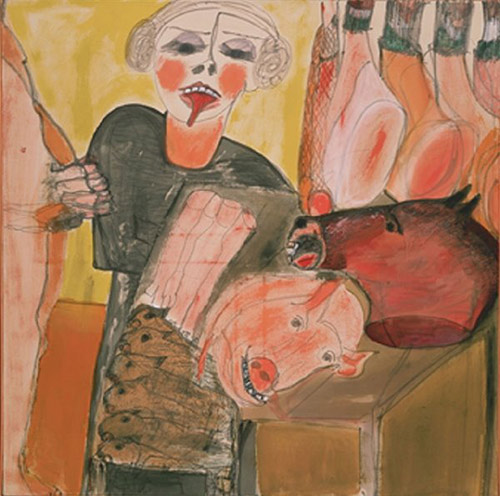 La Macelleria, 1980.
In the nineties, Carol Rama returns to figuration without losing their initial anger because, as she herself has stated on numerous occasions: "paint makes me free from the anguish suffered by what was happening to my family, transforming anguish in transgression... I was out. Contrary. Never lining up"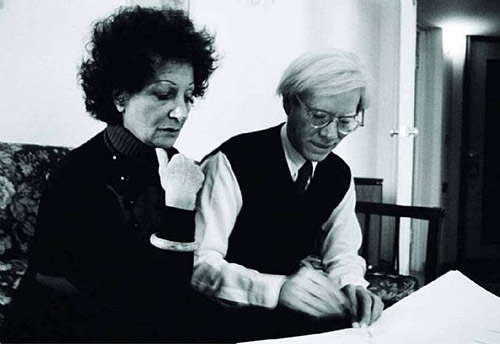 Carol Rama y Andy Warhol. Fotografía de Dino Petrali, 1975.
Curated by Teresa Grandas and Beatriz Preciado - feminist philosopher, specializing in Queer Theory and Philosophy of gender - the exhibition is an alternative file with wich you can correctly understand the history of art of the twentieth century as it is "an artist imperative to understand the mutations of representation in the twentieth century and the later work of artists like Cindy Sherman, Kara Walker, Sue Williams, Kiki Smith and Elly Strik ".
Carol Rama has participated for several years in the Venice Biennale (1948, 1950, 1956, 1993) and in 2003 received the Golden Lion.