Exhibition Pixar in Caixaforum Madrid
Apr 14, 2014
art madrid
If anytime you have had curiosity of knowing which is the creation process hidden behind an animation product, this is you opportunity of knowing if from the inside and let yourself get surprise. Do not get confused, this is not only an exhibition for kids.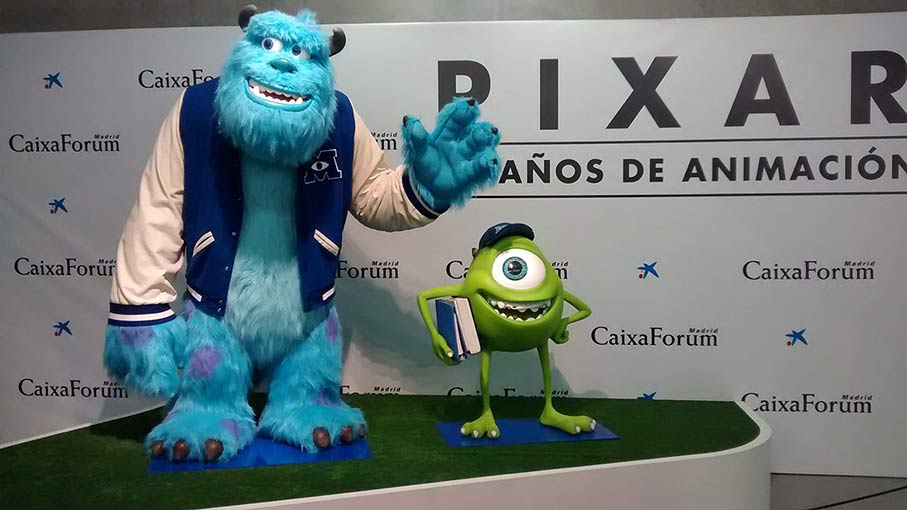 Mike y Sullivan en Monsters University
Many times we don't perceive the hours of work that are behind an animation product. To a certain point we reduce the effort saying: "alright, but this is made by computer", as if this wonderful machines, that have come to revolutionize work and production guidelines, didn't have behind the intellectual support and effort of man throughout the entire creation process. We think that they are not made films like "Fantasy" or "Snow White" of Disney, industriously hand painted. However, and even though the result can lead to error, the animation modern films are clearly debtors of those first ones, prepared almost in a handcrafted way with mime and care. Media have changed, technique has changed, but the work of conception, design and preparation are still loyal to their origins.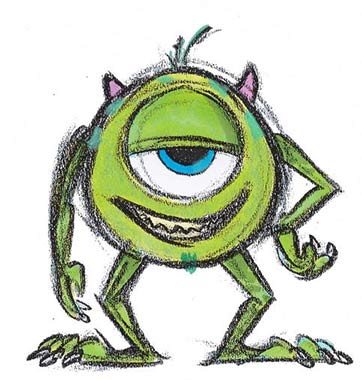 Ricky Nierva. Estudio de color para Mike. (Monstruos, S.A., 2001). Rotulador y lápiz sobre fotocopia
The exhibition "Pixar" that comes to CaixaForum Madrid, from the 21th March to the 22th June of 2014, allows us to know from the inside this unknown universe of which many times we only realize the visible result. Pixar has been a pioneer enterprise in digital animation sector, moving ahead in a premature way what seemed to be a transgressive future, first, revolutionary, after, and finally prosperous and promising, that is now recognised as a mark with its own personality and identity.

As a little window opened to the mysteries of digital animation world, the exhibition is a didactic tour about the process of a Pixar film's creation, from the characters's design, mockups's elaboration made of resin or the proofs of the storyboard to check the impact and reception of script. You will be surprised of seeing the quality and variety of previous artworks, made in different plastic techniques, much before that the first digital line has been sketched on a computer. In addition, the exhibition room hides two interesting dark rooms: a zooscope's mockup with Toy Story characters that without any doubt will make you think about the technical functioning of this optic effect, and a projection room of Pixar's first short films, all a delightful for sector lovers.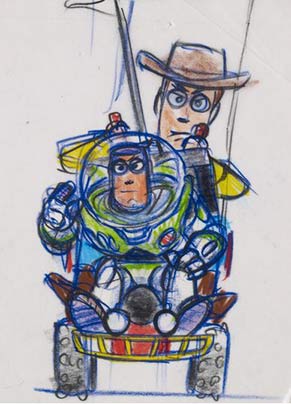 Bob Pauley. Woody y Buzz (Toy Story, 1995). Reproducción a rotulador y lápiz.
This exhibition for all public does not have any waste, and once you were inside you will discover (as I did) that you have seen many more Pixar's films than you remembered... Do not miss complementary activities, there are interesting chats about cinematographic script or preparation and definition of characters in this kind of films.
More information:
Opened from Monday to Sunday: from 10 to 20 h.
http://www.agendacentrosobrasociallacaixa.es/es/caixaforum-madrid/exposiciones-temporales-caixaforum-madrid/pixar