Last Ouka Leele´s special edition litographies
May 20, 2015
art madrid
To celebrate our 10th aniversary, Art Madrid asked the artista Ouka Leele in order to design a special edition litography to conmemorate the event. A limited edition that you still can have and for a lower price!!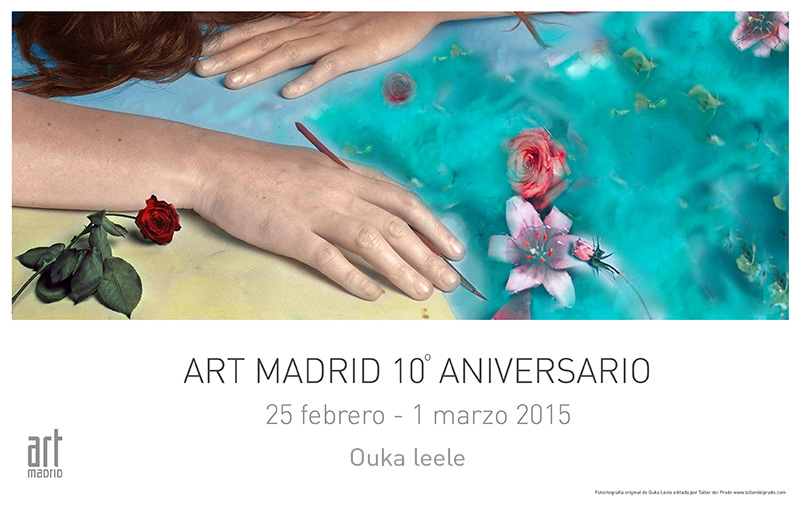 The poster, printed on Fedrigoni Old Mill paper of 100 gr. with measures of 83x51'5 cm, has one of the latest Ouka Leele's painted photos and the 10th anniversary commemorative text. The artist herself signed some copies to make the piece a more special memory if possible. The price of lithographic posters is 15 €.
The lithography, with an edition of 125 numbered copies, has 100 x 64.5 cm and it is printed on Fedrigoni Old Mill paper 250 gr. The piece, certified, had a special price during the fair, 300 €, price that we keep a few months !!! (... It would cost € 500 in the regular market).
Do not miss the opportunity to bring you a bit of these decade of art.
OUKA LEELE
Stage name of Barbara Allende Gil de Biedma (Madrid, 1957), artist, painter, poet and Spanish photographer.
It was one of the main names of the Madrid scene - La Movida - of the early 1980s, when she shared days and nights with Javier Mariscal, Ceesepe, Alberto García-Alix or Pedro Almodovar.
Self-taught, her photographs stand features black and white hand painted with watercolor. Ouka Leele mixes the Spanish traditions with the great colorful typical of this artist, honored with the National Photography Prize in 2005.
His stage name comes from a work of the painter "El Hortelano", a map of stars completely invented by him, in which appeared a star called "OUKA LEELE ".
The artist has always understood photography as "visual poetry, a way of speaking without words". And speaking as loud, he stopped traffic in the Plaza de la Cibeles, in Madrid, in order to make the renowned photography Rappelle-toi Barbara, representing the myth of Atalanta and Hippomenes and today already an icon of the city .