The International Festival of Video art PROYECTOR celebrates its 8th edition.
Sep 11, 2015
calendar
With over 3,000m2 of space, Proyector, international and multi-venue festival expands itself simultaneously to Madrid, Jaen, Milan, Coimbra, Oaxaca and Quito between 10 and 27 September.

In this eighth call, directed by Mario Gutierrez Cru with the collaboration and coordination of Janez Alvarez and Maria Clara Leitão, were received 614 proposals for video art among single channel, multichannel, video dance, video performance, video installations, and videomapping videointeracción from 19 countries, among whom have been selected 28 proposals:

Vanane Borian (arm), Blue and Lindy Marquez (col), Johnatan Molina (mex), Alberto Diaz (esp), Tara Mahapatra (ale), Christoph Oertli (sui), Gustavo Gutierrez (col) Caunedo Juan Dominguez (ESP) Javiera Tejerina-Risso (fra-chi), Gabriele Stellbaum (ale), Eduardo Restrepo Brown (col), Joshua Chacon Vega (MEX), Bruna Paula (ESP), Marte Kiessling (ale), Roman Gomes (arg), Johanna Reich (ale), Dominik Ritszel (pol), Melancholy Maaret (end-fra-USA), Daniel Djamo (rum), Miguel Andres (ESP), Jorge Catoni (chi), doriandgrey (esp) Tuchner Shahar (ISR) Richard Bailey (USA), Marina Camargo (bra), Natalia Delgado Valencia (col), Rosie Morris and Sam Grant (ing), Miguel de Almeida Ferreira (POR) and Luis Marques (for). Apart from other places we have Sarah Minter (MEX), Ruben Gutierrez (MEX), Raisa Maudit (esp) and Olalla Gomez (ESP).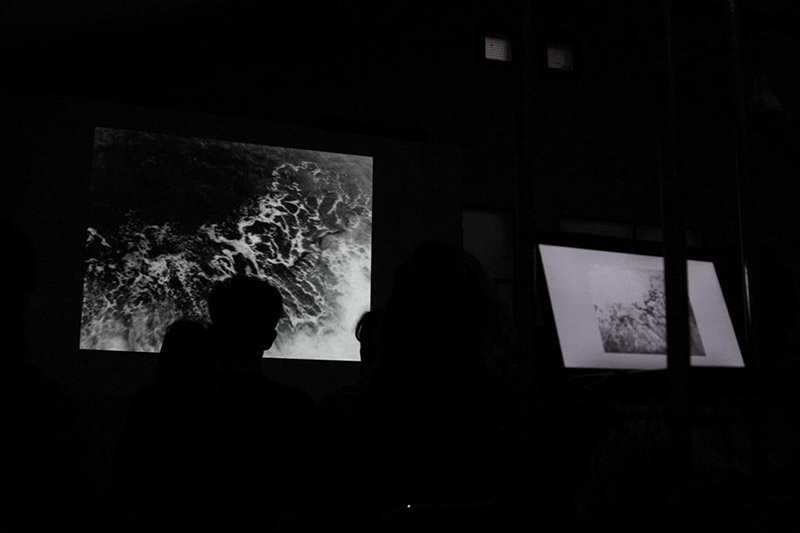 Proyector has, once again, the support of Intermediae Matadero, which will project 5 films (Armenian Genocide 1915. VANANE BORIAN.2014, Armenia. 2 '33' '/ Always Elsewhere. TARA Mahapatra. Germany. 13' 35 '' / Stories of violence in Colombia. Gustavo Gutierrez. Colombia. 17 '01' '/ Birds. DANIEL DJAMO. Romania. 7' 32 '' / developing country "(Developing Nation). JORGE Catoni. Chile. 10 ') and it will host two meetings where the work of other artists from seven Latin American international festivals and European international festivals will be presented.

Other venues of projection are, for example, THEREDOOM Madrid gallery with a work of Boyer Tresaco and the German HANS Breder; Swinton & Grant with a film of Raisa Maudit and Astarte gallery with a work of the artist Olalla Gómez.
Raisa Maudit.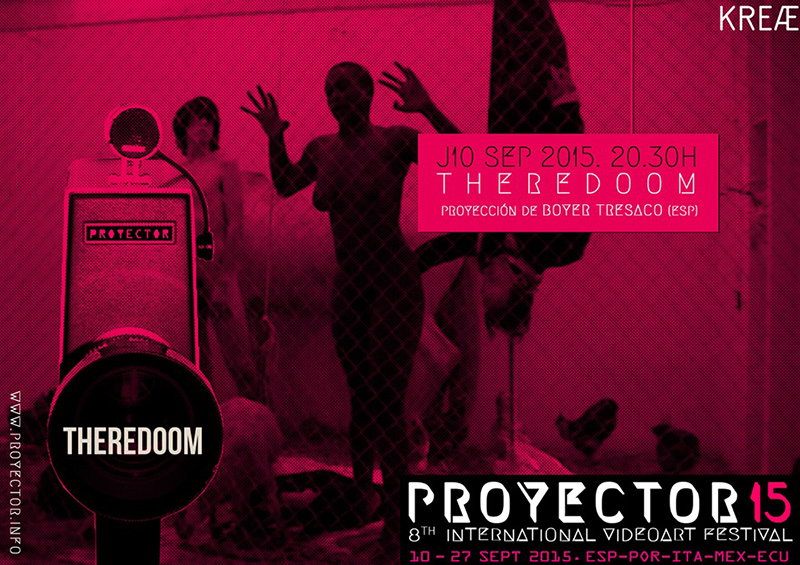 PROJECTOR has new venues in Cinema Usera, Bow Space, Solar Atelier, Esto es una plaza, Konvent, Coimbra and Espaço Particle...
CALENDARIO

J10 SEP
19h. SWINTON GALLERY. Proyección de RAISA MAUDIT (esp)
20h. THEREDOOM. Proyección de BOYER TRESACO (esp)
21.30h. ÉSTA ES UNA PLAZA. Videoinstalación interactiva de MIGUEL DE ALMEIDA FERREIRA y LUIS MARQUES (por)
23h. LA NOCHE BOCA ARRIBA. Fiesta
21h. CASA DE LAS ARTES LA RONDA / Quito - Ecuador. Proyección de PROYECTOR2015
21h. [BOX.] / Milán - Italia. Proyección de PROYECTOR2015
V11 SEP
20h. ATELIER SOLAR. Proyecciones de SARAH MINTER (méx) + RUBÉN GUTIÉRREZ (méx)
S12 SEP
18h. THEREDOOM. Mesa redonda con artistas coordinado por Intercambiador ACART
20h. QUINTA DEL SORDO. Proyecciones de CHRISTOPH OERTLI (sui) + JOHANNA REICH (ale) + MARINA CAMARGO (bra) + DORIANDGREY (esp) + ROSIE MORRIS AND SAM GRANT (ing)
D12 SEP
18h. ESPACIO NARANJO. Videoinstalaciones JOHNATAN MOLINA (méx) + JOSHUA CHACÓN (méx) + MIGUEL ANDRÉS (esp) + NATALIA VALENCIA (col) + MAIA NAVAS (arg).
19.30h. Performance de MIGUEL ANDRÉS.
M14 SEP
20h. ESPACIO LABRUC. Videoproyección AZUL Y LINDY MÁRQUEZ (col) + GABRIELE STELLBAUM (ale). Vídeodanza: OLGA MESA (esp)
X16 SEP
19.30h. INTERMEDIÆ - Festivales LatinoAmericanos: PLAY (arg) + OJO DE PERRO (mex), VIDEO BABEL (per) + Festival MIVA (ecu)

J17 SEP
20h. THEREDOOM (solo project). Proyección HANS BREDER (ale)

V18 SEP
19.30h. INTERMEDIÆ - Festivales Europeos. FONLAD (Festival Online de Artes Digitales) (por), + OODAAQ (fra) + VISUALCONTAINER (ita)

S19 SEP
20h. GALERÍA ASTARTE. Videoinstalación de OLALLA GÓMEZ (esp)
20h. FESTIVAL CEL.AV / Barcelona. Proyección de PROYECTOR2015

D20 SEP
12-20h. ESPACIO PROA. Videoinstalaciones ALBERTO DÍAZ (esp) + MARTE KIESSLING (ale) + MELANCHOLY MAARET (fin-fra-eeuu) + SHAHAR TUCHNER (isr)
20h. ESPACIO OCULTO MADRID. Videoinstalaciones EDUARDO RESTREPO CASTAÑO (col) + PAULA BRUNA (esp) + ROMÁN GÓMES (arg)
22h. CINEMA USERA. Proyección JAVIERA TEJERINA-RISSO (fra-chi) + JUAN CANEDO DOMÍNGUEZ (esp) + DOMINIK RITSZEL (pol) + RICHARD BAILEY (eeuu)
21h. PLAZA DE LA CRUZ DE PIEDRA/ Oaxaca - México. Proyección de PROYECTOR2015

V25 SEP
20h. MUSEO PROVINCIAL / ARTJaén. Stand de PROYECTOR2015

S26 SEP
22h. ARTJaén. Proyección de PROYECTOR2015
21.30h. ESPAÇO PARTÍCULA / Coimbra. Videoinstalaciones de PROYECTOR2015