Santiago Ydáñez and the heartbreaking beauty
Jun 29, 2017
exhibitions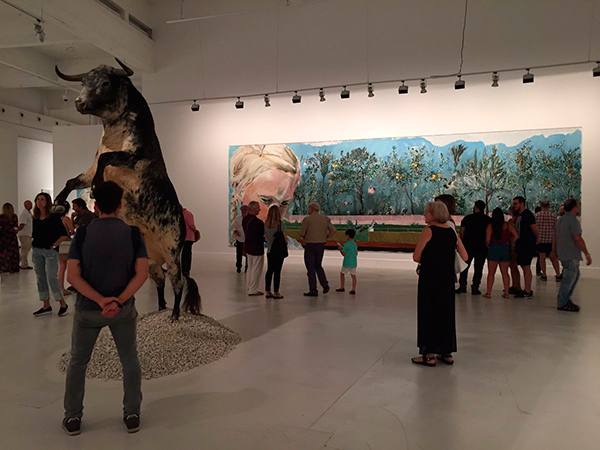 El Jardín de las Delicias, 2017 (Al fondo)
Santiago Ydáñez studied Fine Art in Granada and for the last 14 years he has divided his time between Jaén and Berlin. He was born in 1969, in the town of Puente de Génave, Jaén. He was influenced by the contact with earth and the countryside, animals and hunting. These features will create his symbolic world: erothic or forbiden sensuality, huge and strident portraits, "dismemberments" as a type of vanitas, defiant animals close-ups, art history reinterpretation, etc. The axial line of his work rests on the basic, primitive feelings shared by both humans and animals.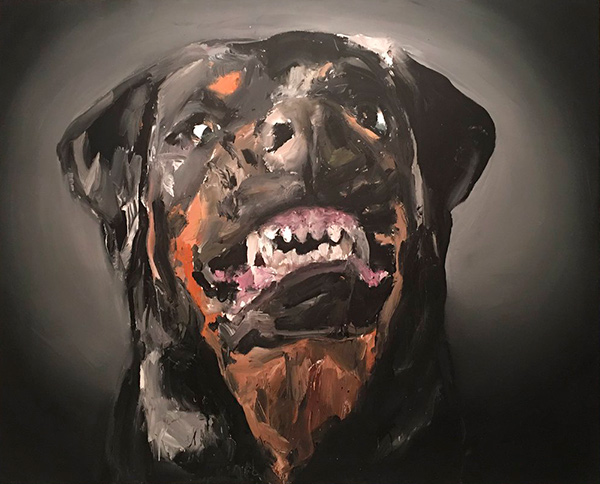 Sin título 2014
The artist uses photography as source material. Taking it as an starting point, he firstly makes a quick charcoal sketch and then picks up his brushes. He paints swiftly and impulsively, applying energetic, grey and black strokes in a rapid brushwork. These pieces cause different emotions in viewers: pain, pleasure, ecstasy and nostalgia. The artist use different support surfaces: canvases, books or objects he picks up at markets.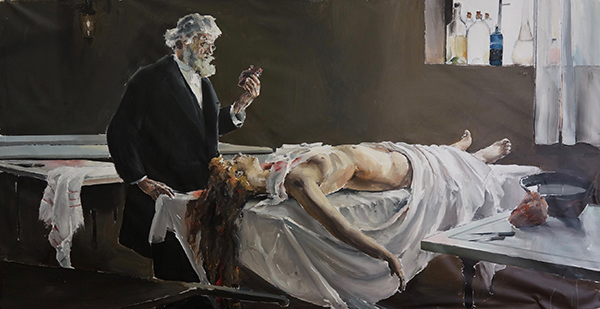 Versión de la obra ¡…Y tenía corazón! / Anatomía del corazón de de Enrique Simonet
The exhibition features selected paintings from the last decade of his career. Among them, `El Jardín de las Delicias (2017)´, an enormous 315 x 1000 cm canvas, shows the face of a blonde girl whose melancholy gaze speaks of absence, versus the tranquil beauty of a lost paradise. It is a criticism of cultural and ethical decadence that brought Germany to Nazism.
His exploration of the philosophical links between original and copy can be seen in a version painted specifically for CAC Málaga of Enrique Simonet's work ¡… Y tenía corazón! / Anatomía del corazón (1890), now exhibited in the Museo de Málaga, that renders a doctor making an autopsy to a prostitute. Apart from these pieces, we can also find objects such as cutlery boxes, frames, a mirror and jewellery cases, on which he paints or draws the same motifs and characters that appear in his paintings.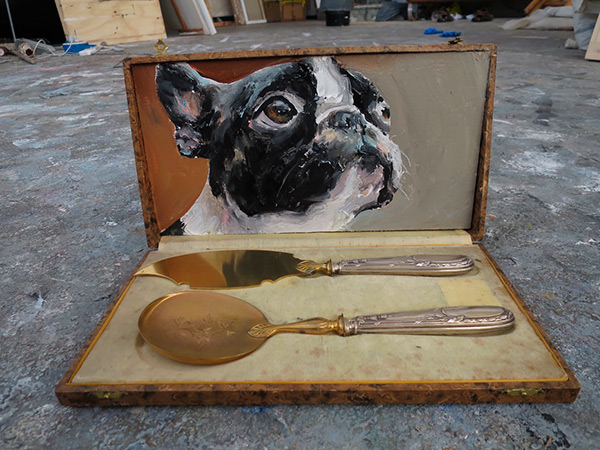 Objeto intervenido
Ydáñez's artwork can be admired until the 24th of September in Contemporary Art Centre Málaga, where can be also visited the permanent collection, several summer workshops or Danielle Van Zadelhoff exhibition, dutch photographer.