Art Madrid closes its ninth edition
Feb 28, 2014
art madrid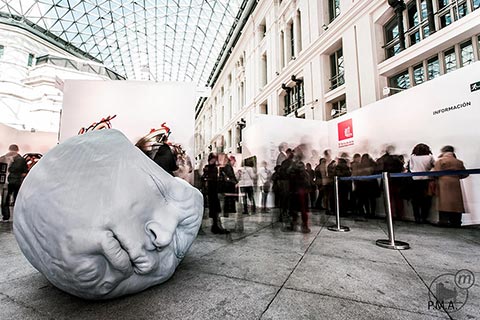 The CentroCentro Galería de Cristal had sold-out at various moments of the 9th edition of the Contemporary Art Fair Art Madrid. From its opening on February 19th until its closing, five days later, Art Madrid was visited by over 20,000 people. Both the organizers and the participating galleries have confirmed that an event of this kind, well connected and located in the heart of the city is guarantee of success.
One of the galleries that premiered in the fair is moproo ( Shanghai) whose director Julian Ramirez Rentero greatly appreciates his participation and "the fact of being in the heart of the city that has helped us to have more visibility. I want to highlight the large crowds and the high degree of satisfaction that I received from both our customers and other visitors who have share with me their impressions".
To Marc Decoene, responsible for a gallery in Erolzheim (Germany ), the experience has been more than satisfactory . "It's the first time we participate and it wont be the last. An event like this, with a central location, good times and a perfect organization should be on the TOP of the Spain and Europe list of art fairs".
Good figures not only occurred in audience but also viewed in sales. "We were able to contact many collectors for this moment but, most important, for the future... Sales have exceeded what I expected", said Marc Decoene. Indeed, over 90% of the participating galleries have sold artworks from the first day of the fair.
As Javier Lopez, director of 3Punts in Barcelona, says: "we have noticed that also the public and collectors were more willing to buy". The director of the Valencian Point Gallery, José Ignacio Agrait, also remarks the presence of "true collectors" thanks to a previous work in "trust, communication and good proposals".
Fernando Herencia, chief in Materna&Herencia Gallery, points to the selection of galleries and artists and "the importance that has been given to emerging galleries". "If we bet on this line of renovation and we can be more selective in the selection of galleries, the fair of the future will be very competitive" says Fernando.
Competitive character, good organization and support and communication services to collectors and galleries are the keys with which Art Madrid prepares itself for upcoming issues.