Los 10 del 10º Aniversario de Art Madrid
Feb 28, 2015
art madrid
Primeras ediciones, obras únicas, piezas nunca vistas en ferias de arte,... hemos seleccionado 10 paradas imprescindibles dentro del recorrido de Art Madrid'15.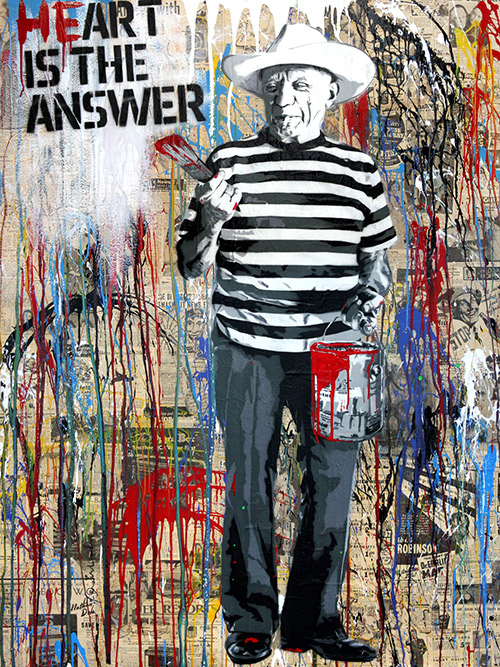 Mr. Brainwash es el pseudónimo del artista callejero de origen francés Thierry Guetta, conocido en todo el mundo tras su aparición en el falso documental "Exit Through the Gift Shop" dirigido por el también artista urbano Banksy y con metraje grabado por el propio Guetta. Su obra Picasso, entre otras, estará colgada en el stand de la galería 3Punts. Es una tela de gran formato, muy trabajada y con un precio que ronda los 40.000€.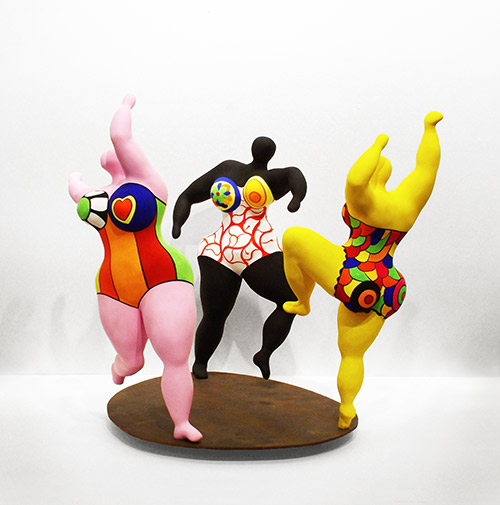 NIki de Saint Phalle. Este es, sin duda, su año con las magníficas exposiciones en el Grand Palais de París y, desde febrero, en el Museo Guggenheim de Bilbao pero es que Niki de Saint Phalle (1930−2000), una de las creadoras más influyentes de la segunda mitad del siglo XX, también estará en Art Madrid con las galerías NH de Colombia (trae la pieza Les Trois Graces de 1994) y con la galería de Barcelona Marc Calzada que trae L'Ange Vase, de 1993, una escultura en resina de poliéster pintada, seriada y firmada por la artista con un precio aproximado de 95.000€.
Jessica Lange (Minnesota, 1947) asegura que aprendió fotografía con el fotógrafo español Paco Grande pero fué en los años 90, cuando Sam Shepard le regala una Leica M6, cuando la actriz decide retomar su actividad como fotógrafa tomando imágenes en su vida cotidiana y en sus viajes por Estados Unidos, Francia, Finlandia, Italia o México, por el que muestra una especial predilección "por sus luces y sus grandes noches", como ella misma señala. En todos estos países inmortalizó personas y estancias donde "el color era un artificio inútil".
Art Madrid es la primera feria de arte en la que estarán sus fotos, de las series Minnesota y México, gracias a la galería mexicana Hispánica Contemporánea.
Alexander Calder sigue siendo uno de los artistas más innovadores del S.XX y referente para diseñadores, arquitectos y artistas de diversas disciplinas. Con sus móviles (el primero, desarrollado en 1931 y bautizado así por el propio Marcel Duchamp), dotaba por primera vez de movimiento a una obra de arte para para reflejar los efectos cambiantes de la luz y se convirtió en el precursor del arte cinético. Los móviles llevaron a Calder a ocupar puestos principales en la escultura moderna y es precísamente uno de ellos el que os mostramos en Art Madrid: Black Triangle, una pieza de 1947, firmada, procedente de una colección privada de origen suizo y certificada por la Alexander and Louisa Calder Foundation.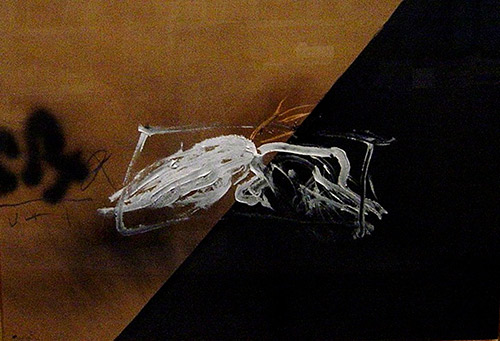 La madrileña galería Kreisler trae una de las piezas más valiosas de la feria este año. Se trata de Divisé en diagonale, de Antoni Tàpies, técnica mixta sobre papel, fechada en 1982, una pieza única de la Colección Kreisler con un precio aproximado de 190.000€.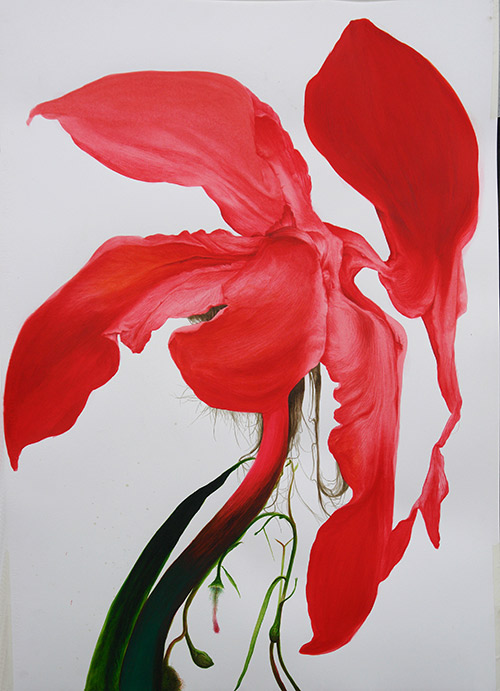 Las tres últimas obras de Jesús Zurita (Ceuta, 1974), maestro del dibujo, la pintura y la instalación, llegan a Art Madrid recién pintadas gracias a la galería alemana Marc Decoene. Son tres piezas en tinta y acrílico sobre papel Se Odian, Un intenso abandono y Se oye roer, cuyos precios oscilan entre los 2.000 y los 2.800€, y que acompañan a otros trabajos suyos de los años 2012-2014. Zurita logra, como siempre, con suaves trazos en tinta y pincel, capturar y enredar al espectador en sus figuras orgánicas y contorneadas, tan sutiles como perturbadoras.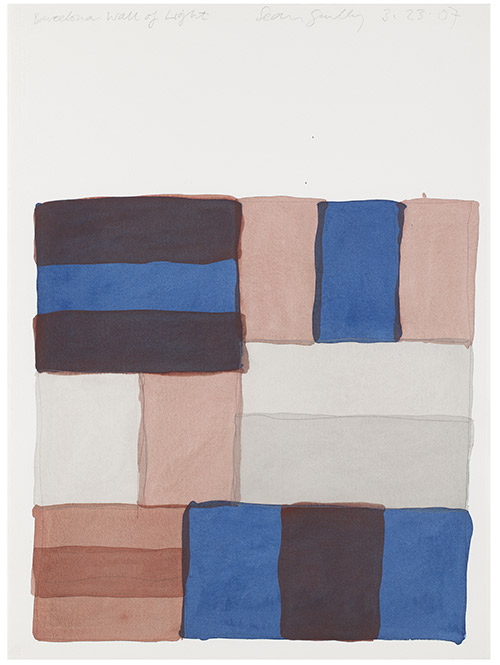 Sean Scully (Dublín, 1945), maestro del color y la simetría, representa hoy el equilibrio entre la energía gestual del Expresionismo Abstracto y la disciplina del Minimalismo Norteamericano. Sus obras, de gran contenido místico y poético expresan, según sus propias palabras, "orden y humanismo porque no necesitamos más caos". Como si de una pieza de orden dórico -el más simple de los clásicos- se tratara, sobria, equilibrada y simétrica, así se presenta Barcelona. Wall of Light Sean Scully 3.23.07 (2007), la acuarela (firmada y fechada por el artista) que la galería Artur Ramón de Barcelona trae a Art Madrid, una característica pintura de bandas rectangulares verticales y horizontales en gamas armónicas y ligeras, sin adornos ni detalles superfluos y con uns precio aproximado de 50.000€.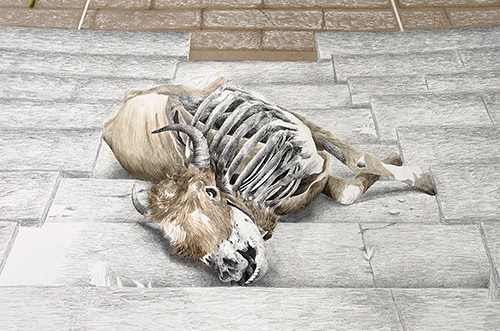 "Pinta como un dibujante y dibuja como un pintor", es una certeza mantenida por el propio Santiago Talavera (Albacete, 1979) que permite conocer algo mejor su proceso creativo, muy definido por la pureza de las formas. Talavera, según el comisario Carlos Delgado Mayordomo "se consolida con cada exposición como uno de los creadores más fascinantes, poderosos y sutiles de su generación" y en Art Madrid podemos disfrutar, gracias a la galería MOPROO de Shanghay en el programa ONE PROJECT de la feria, de uno de sus últimos trabajos, el monumental Antropocosmos, una suerte de escenario poliédrico cuyo punto de partida es la fotografía que el artista tomó de un antiguo anfiteatro y cuyo resultado es una imagen absolutamente enigmática donde lo real figura invención y viceversa. Un espacio deshabitado, abismal, idílico y perturbador a un tiempo, y que responde a un plan perfectamente acotado por parte del artista.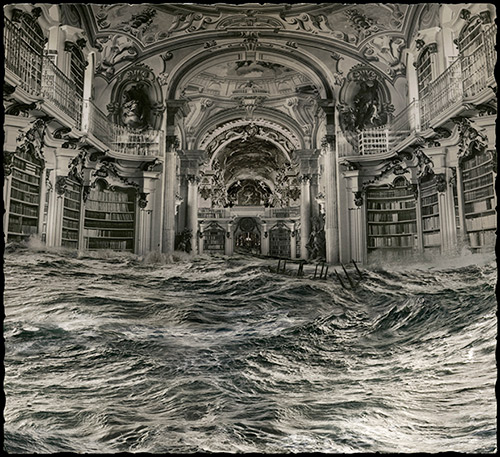 Utilizando fotos encontradas en mercadillos, rastros y librerías de viejo de Berlín, donde reside habitualmente, Pablo Genovés (Madrid, 1959) ha desarrollado tres de sus series más impresionantes: «Precipitados», «Cronología del ruido» y «Antropoceno». En estas series, realizadas entre 2009 y 2014, la naturaleza invade con furia lujosos edificios, representativos del esplendor de Europa, para hablarnos de la melancolía y la fugacidad de las cosas. En Art Madrid, de la mano de la galería asturiana Aurora Vigil Escalera, podemos disfrutar de La Naturaleza de los Dioses (2011-2014), Entre el cielo y la Tierra, Templo del Sol y Del Hielo, de la serie Precipitados y que, como toda ella, gozan de la potencia de una pintura barroca y de la sensibilidad de una obra romántica.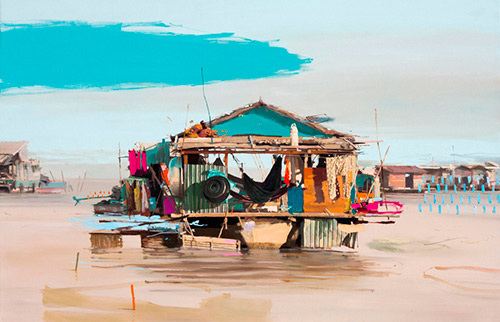 Artista urbano y miembro del colectivo BOAMISTURA, Rubén Martín de Lucas (Madrid, 1977) es ya uno de los artistas revelación de esta temporadapresenta en Art Madrid -con la galería BAT Alberto Cornejo- su trabajo de estudio. Cuadros de gran formato, técnicas mixtas y obra en papel desarrolladas para el proyecto La Aldea Flotante, una serie inspirada en su experiencia como viajero por el sudeste asiático que le llevó a reflexionar sobre el frágil pero implacable equilibrio de las cosas.