ART MADRID'23 CLOSES ITS 18TH EDITION WITH SUCCESSFUL NUMBER OF VISITORS AND AN INCREASE IN SALES
Mar 27, 2023
art madrid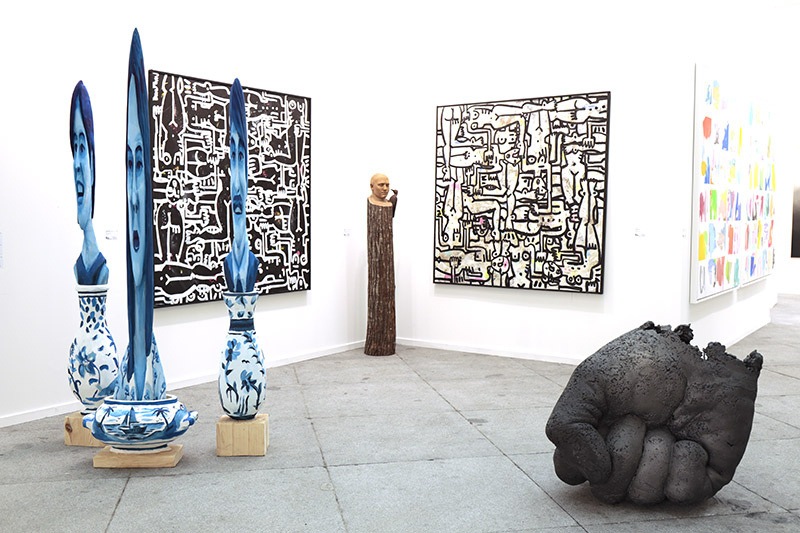 ART MADRID has proved in its coming-of-age edition that it is a fair without labels, generalist but alive. Celebrated at the Galería de Cristal del Palacio de Cibeles from February the 22nd to the 26th, the contemporary art event has returned renovated, committed to new gallery models, launching reception platforms for young voices to find their place in the current scene, and interested in approaching new audiences to the project. The eighteenth edition of ART MADRID received the visit of important institutions such as: Centro Atlántico de Arte Moderno (CAAM), INELCOM Collection, CCCB Centro de Cultura Contemporánea de Barcelona, Centro Museo Vasco de Arte Contemporáneo (ARTIUM), Fundación Ankaria, Fundación Thyssen-Bornemisza Art Contemporary, Fundación Santander, Fundación Mª Cristina Masaveu Peterson, Fundación Telefónica, Fundación Tara Mujeres Emprendedoras, Instituto Valenciano de Arte Moderno (IVAM), Museo de Navarra, Museo Thyssen-Bornemisza and Museo Nacional Centro de Arte Reina Sofía (MNCARS) among others.

ART MADRID brought together 36 national and international galleries and more than 160 artists at the Galería de Cristal del Palacio de Cibeles. Their testimonials confirm the success of the edition and confirm the fair's desire to continue working for the professionalization of the sector.

OOA Gallery: "We are very satisfied with our second participation in ART MADRID. It was a very good edition, with the visit of many collectors and interest in African contemporary art. Total success."

Galerie LJ: "In our third participation, ART MADRID once again made it possible for us to meet with a huge Spanish audience, giving us the opportunity year after year to be able to expand our local network."

Galería Metro: "Our participation in ART MADRID'23 has been fantastic. The results exceeded our expectations: both in terms of visibility and sales of our artists, number of visitors, as well as new and interesting contacts."

It is important to highlight the sales results: 10% of the works sold were priced at over 20,000 €; 14% were pieces between 8,000 and 20,000 €; 36% ranged between 3,000 and 8,000 €; while 40% of the acquisitions were of works in the range of up to 3,000 €. In view of these data, it could be concluded that ART MADRID is positioned as a fair to get started in collecting. It also highlights the presence of a bigger international public, specifically international collectors who want to expand their collections with Spanish artists.

The collections that made acquisitions in this edition include: Art Space Collection, Solo Collection, Mª Cristina Masaveu Peterson Collection, Cuperior Collection, Luciano Méndez Collection, BBVA Foundation, Bassat Foundation, Pamplona City Hall and Paradores Nacionales.

ART MADRID'23 has been possible thanks to the support of its sponsors: One Shot Hotels and Liquitex; its collaborators: AVAM, MMM, Safe Creative, Too many flash and 9915; and the institutions: Ministry of Culture and Sports, Madrid City Council, Community of Madrid, Museo Nacional Centro de Arte Reina Sofía, Museo Thyssen-Bornemisza, Instituto de Arte Contemporáneo, Solo Collection, Fundación Mª Cristina Masaveu Peterson, Ministry of Culture of Taiwan and the Economic & Cultural Office of Taipei.