Balaguer Gallery from Barcelona in Art Madrid\'15
Jan 19, 2015
art madrid
Balaguer Gallery is placed in the heart of arts neighbourhood of Barcelona. The well known Consell de Cent street groups the principal exhibition rooms of the city, place where the gallery has moved in 2004, hardly two years after its opening in 2002.
One of the main working lines of the gallery is the support to young artists and the bet for variety of formats. In this sense, Balaguer includes in its room works of photography, painting, drawing, sculpture, engraved, video or performance. In this last discipline, the gallery has wanted to make the difference in its trajectory through an exhibition project that started in 2001. This initiative, curated by Ariadna Rodríguez, offers a performance cycle bimonthly that takes place in the gallery, activity that completes the varied offer of events that meet up in this space.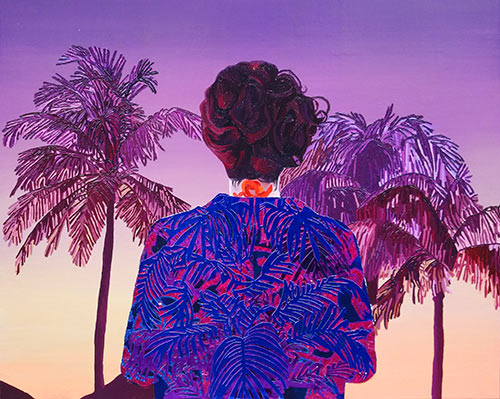 Cristina en Miami. Alejandra Atarés.
Balaguer joins this appointment of Art Madrid'15 with a strong proposal of an unique artist: Alejandra Atarés.
The work of this artist from Zaragoza is characterized by its liveliness of color and the election of an original leit motiv to assemble her series. In her last collection, Alejandra presents pieces in which appear backs of women facing several urban and natural landscapes. As the artist explains, it's a serie where we can appreciate an evolution from the portrait of people she needs to previously know, with a result near to reality, til the creation of characters immersed into fantastic and imaginary locations. It is about a new way of portrait in which the texture of cloths, in contrast with background, less plastic, gains a special expressive importance.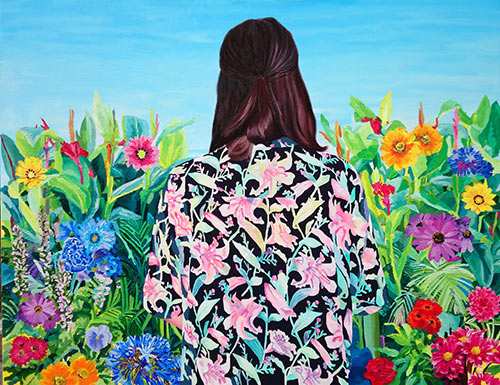 Primavera. Alejandra Atarés.
With words of the artist Mercedes Mangrané "The work of Atarés plays from the impertinence at laying out a reverse: it is not painting who gives us the back but its enigmas, that we must approach to find out. The look that we will never figure out, the faces (surely selfportraits of the artist) that hide their attitude, but that, as mirrors, are reflected in the landscapes of marvel (of tale) that, as spectators, we contemplate".