WHEN DIGITAL ART BECOMES AN IMMERSIVE EXPERIENCE
Apr 6, 2019
exhibitions
The current development of art moves along paths increasingly connected with technology and digital language. Although in the beginning, the virtual works had been to a certain extent unconsidered, because they seem to play down the importance of the authors who execute their pieces with their own hands; these forms of expression have followed a constant evolution to position themselves in their place, where they deserve the same respect and admiration as traditional disciplines.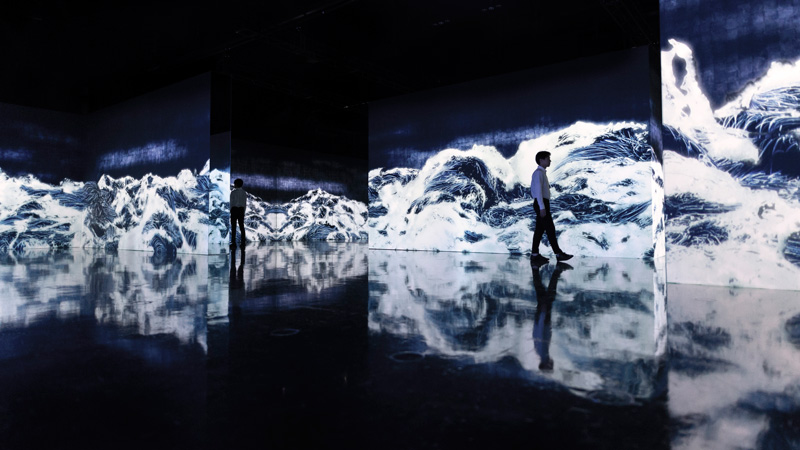 One of the main differences offered by digital works is their ability to create parallel realities in an immersive way. Their power transcends mere evocation since they overcome the mind of the spectator, who does not have to imagine the things suggested to him, but he is involved in them actively and directly. The connection of these pieces with the moving image is understood today as a natural outlet... because the movement is precisely what the traditional branches of art cannot capture.
In this path, the work of teamLab, an artistic collective composed of numerous professionals from different specialities, who unite their energy and knowledge to create impressive digital immersive pieces, is deployed. Their own work system is based on the philosophy they want to convey in their works. It is about pooling the effort of all, seeking complementarity and joint action, giving rise to artworks that flow, that explore for themselves a balance in the elements, a harmony in the exteriorisation of an idea as simple as complex.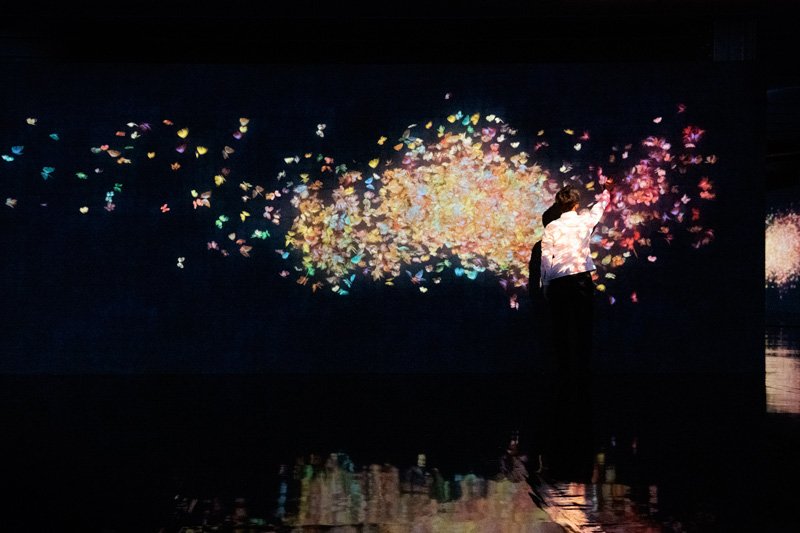 This group, founded in Tokyo in 2001, prefers to reinforce the collective work and reject the traditional concept of authorship in the art to focus its efforts on the production of works. Its pieces have already been exhibited in numerous capitals of the world and are part of important collections.
While searching for putting together nature, technology, science and art, teamLab's work explores the possibilities of digital recreation of natural elements taken on a large scale to involve the viewer in an experience that transcends and brings it to another place. Its digital creations are often interactive and change in a constant cyclic movement that evolves according to the elements that appear in the scene. The result is an artistic-digital experience that reacts to the visitor, in a non-verbal dialogue that invites us to reflect on our environmental impact, the interaction with living beings and the need to feel a vital connection with nature.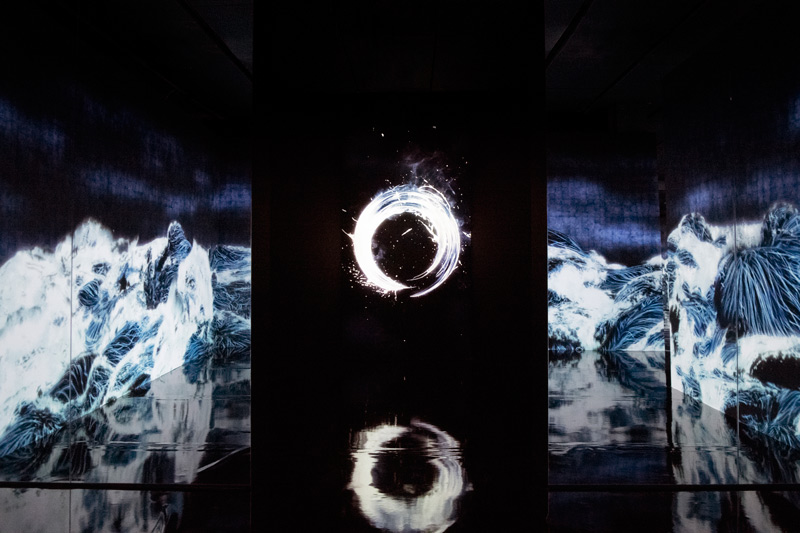 The Espacio Fundación Telefónica exhibits three works of this collective to offer an unforgettable experience to the visitor. "Black Waves: Lost, Immersed and Reborn", "Flutter of Butterflies, Born from Hands" and "Enso - Cold Light" unfold on the walls of the showing-room to wrap, in a dark atmosphere with quiet music, the fascinated gaze of the spectator. Everything changes in the constant oscillation of the water and the waves of a rough, but peaceful sea.