INTERVIEW WITH ELENA GUAL
Feb 8, 2022
art madrid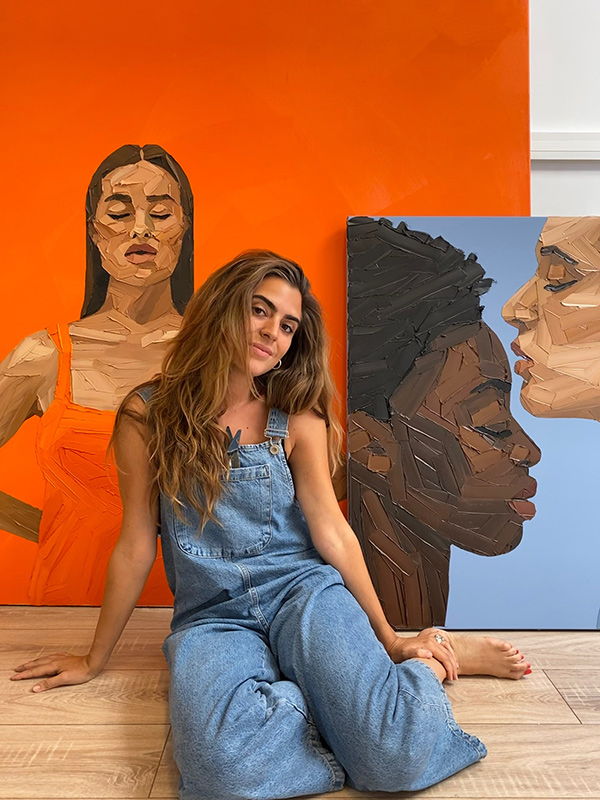 Elena Gual has a marked and recognizable technique inspired by the image of interracial women despite continuing to open new lines of work and even venturing into abstraction. Her work is characterized by the use of the palette knife and his knowledge of Renaissance painters and classical sculpture techniques.
All this, thanks to the three years of training at the art academy in Florence. Later she moved back to London, where she lived from the age of 16 to continue her training at the Royal College of Art and Central Saint Martins. She has exhibited in Monaco, Paris, Venice and London. Back in Spain, Arena Martínez Projects presents her work for the first time in her country at Estampa 2021 fair, on the occasion of the Art Madrid fair her work can be seen for the second time in Spain.
Interview:

¿What inspires you to create?
I don't think I have something special or a new perspective on the subject. In the end, it is mainly the colors, the emotions I feel on a daily basis, even my journeys are a source of inspiration. Throughout my career I have also started recognizing that inspiration is also a solution to a problem. Like Picasso said once, inspiration is found through work, and that is exactly what I do. When something does not quite come out as I expected, I start producing and evolving, until I find a goal that I'm satisfied with.
¿What have you been working on lately?
During the last 4 years I have centered my production on womanhood, trying to reach equality between us through my strokes on the canvas. Lately I'm centering myself a lot more on emotions, I think that is the reason why I am a lot less conceptual and more figurative these days. I am focused primarily on the subject of our bodies and equality.
Tell us about your creative process.
When I studied in the Accademy of Florence, before sitting at the easel the process was: sketching, studying the composition and studying the light. It helped me a lot when it came to creating my own artwork. It makes me understand exactly what I want: from composition, to lighting, from start to finish.
Is this your first time at the fair? What do you expect Art Madrid?
Something that I really love about art fairs is having my paintings exposed to the public, having them to be present in the event knowing that many people will see them. I like to think that they will cause a wide range of emotions: some people will stop and stare at them, others will completely ignore them. But most importantly, they will be in the memory of many people.
In your realistic portraits you represent female figures of different ethnicities, ages and cultures. Are they women you meet on your travels, are they part of your life?
Most of the women I have painted have been part of my life in some way or another. I have known them in my journeys, I have co-lived with them many adventures. But I have to say that, now more than ever, I try to inspire myself in the connection I make with these women, in something more concrete, like a story that they choose to tell me, and from there I try to recreate an emotion.
Elena Gual participates in Art Madrid with Arena Martínez Projects, along together with Paspartus, Carlos Cartaxo, Juana González y Francisco Mendes.