WE ALL CAN BE CREATIVE: A NEW PROPOSAL BY CULTURA INQUIETA FOR ART MADRID'19
Mar 2, 2019
art madrid
For the third consecutive year, Art Madrid once again is engaged with Cultura Inquieta. Official media partner of this edition, Cultura Inquieta is one of the most interested and involved media in current culture. This year it invites all visitors to take their most creative side into its booth at the fair.
The two walls of the Cultura Inquieta stand began as two blank canvases, ready to welcome all kinds of artistic manifestations and encouraging free expression and creativity without limits. Artists present at the fair as well as visitors of all ages have participated ... In fact, we can all be creative and proof of this is that there is hardly any free space left to intervene in their booth. However, all those who want to be part of these collective murals will surely, with some ingenuity, find some way to leave their mark. In addition, at their booth, you can learn about other projects, such as the creative products they offer from the online store and those they have selected in order for you to see them at Art Madrid: art pills, design and inspiration.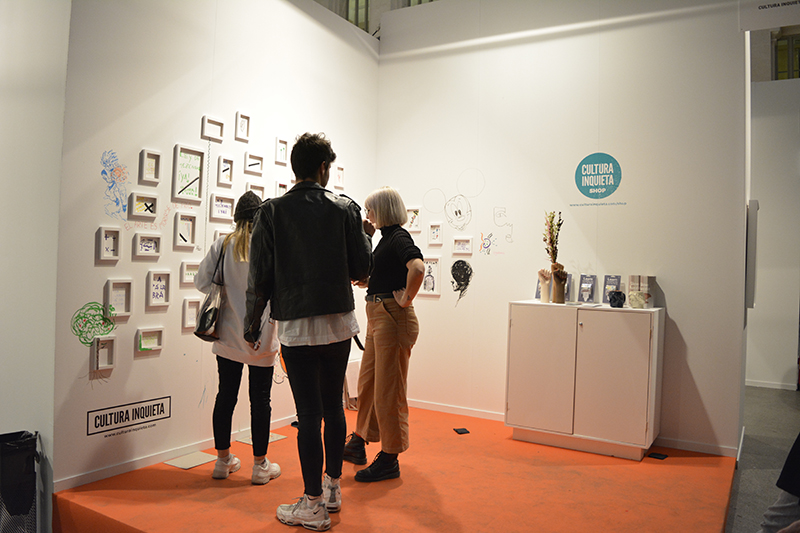 The Cultura Inquieta team presents "our own space, a couple of square meters where we synthesize our universe to channel, approach and soak up everything that happens. A space, overall for sharing. Sharing time, words and creativity. A place to rest for a few minutes, talk, laugh and reflect "with the ultimate goal" of bringing art to everyone absolutely".
Some of the reasons that motivate this type of proposal are so many that Cultura Inquieta compares them with the own principles of art. Unity or harmony, because, as explained by them, they are integrated, so naturally, that they come to lose sight of the limits imposed by space; variety, because they love having the chance to look out through an infinite window of inspiration, an exercise that they can feed by touring Art Madrid, where they find the production of both emerging artists and consecrated artists, "an almost mystical experience"; or balance, because "we are aware that life is what happens between 0 and 100 years, so we try to look with the eyes of children, and to children we try to give wings so that they can paint, dream, and believe in a much better future through art".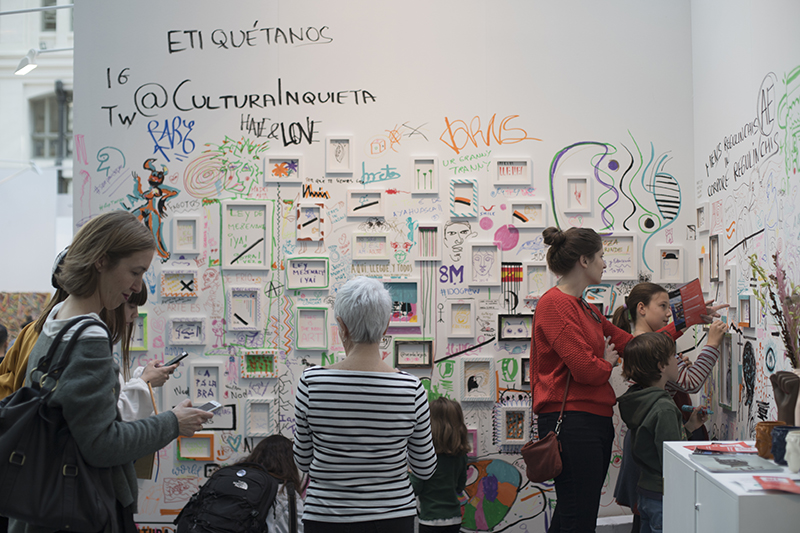 Other reasons that support its proposal for the fair are related to contrast because, like Art Madrid, they enjoy the polyhedral side of things; proportion, because "we can not stop looking up towards the wonderful glass vault that surrounds everything. At the works, at the artists, at you, at us too, and then, is when the proportions of beauty escape us"; the emphasis and the enthusiasm of participating in a fair with which they share so many values and aspirations; and finally, for movement, for that "effervescent flow of people, ideas, concepts and messages that we share with artists, gallerists, visitors, friends ... during these five days".
Like Art Madrid, Cultura Inquieta has among its main objectives the spreading of the quality the current creation has, specialized in the promotion of young talent. Art, culture, trends, photography, trends or lifestyle; Cultura Inquieta is one of the most consulted and reputed digital portals worldwide. It is also the organizer of one of the major Spanish music festival, one of the most important annual events on the Madrid agenda, which this year celebrates its tenth edition beginning at end of June. From Art Madrid we encourage you to participate in the simple but so inclusive and exciting proposal of Cultura Inquieta: dare to express your creativity.