TRANSOCEANIC ART MADRID: FROM CUBA TO TAIPEI GOING BY PUERTO RICO
Feb 3, 2017
art madrid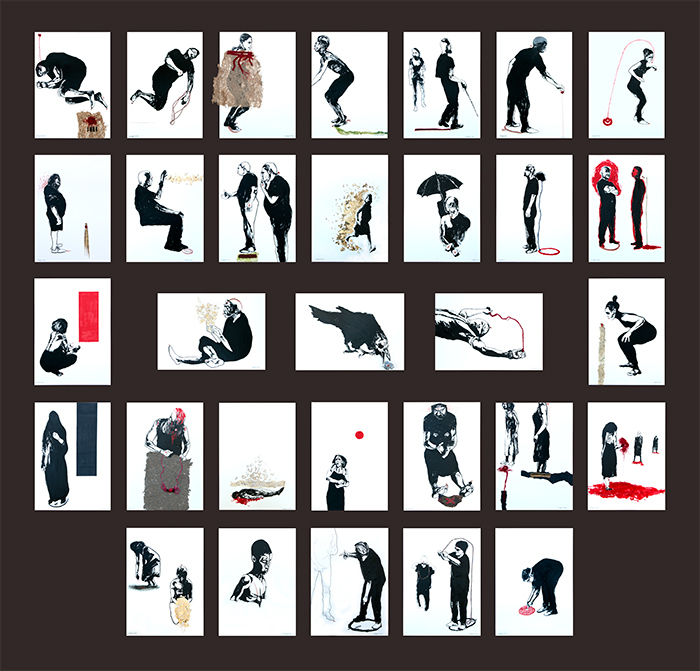 Santiago Rodríguez Olazábal. FOOTPRINTS. Set 31 drawings. Mixed media on card stock. Variable dimensions. 2016
The Collage Habana Gallery, located on San Rafael, the central boulevard of the Cuban city, has more than 10 years experience in the promotion and commercialization of local arts with a catalog of artists from different generations, young creators and established masters In the Cuban arts scene, many of them awarded with the National Prize for Plastic Arts, such as masters Manuel Mendive and Roberto Fabelo. Since 2004, it is the gallery that leads the Center of Visual Arts of the Cuban Fund for Cultural Property, where they reflect the aesthetic plurality of the art of the Island, from its projects and exhibitions.
The proposal they bring to Art Madrid includes the work of José Bedia, Roberto Fabelo, Santiago Rodríguez de Olazábal and Guibert Rosales. It will be a pleasure to see again the art works of the master Fabelo, painter, draftsman, engraver, illustrator and sculptor who has won numerous prizes and mentions, among them the UNESCO Prize for the Promotion of Fine Arts in Paris (1996) National Prize of Cuban Plastic Arts (2004) or Distinction for National Culture, both granted by the Ministry of Culture of the Republic of Cuba.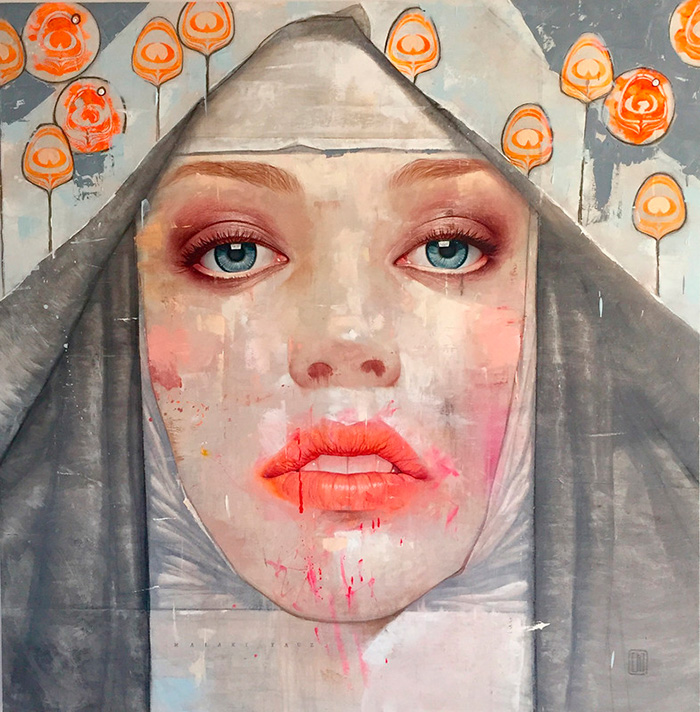 Roldan Lauzan. Hierofante - Hierophant - Oil on canvas - 150 x 140 cm - 2016
Another Cuban, Galería Moleiros, was founded in 1999 with the aim of internationalizing contemporary Cuban art. Directed by René Moleiros, he represents both masters of the late twentieth century, such as Roberto Fabelo, Zaida del Rio and Manuel Mendive, as well as emerging artists, leading to numerous international fairs.
In Art Madrid'17 he bets by these artists: Rubén Alpízar, Roldan Lauzan, Yamir Izquierdo, Daniel Collazo. We highlight here the work of the young Roldan Laúzan (Havana, 1987) who has participated in collective exhibitions such as "Sabor Metálico", in Villa Manuela Gallery in Havana, "Intersections", Izabelle Lesmeister Gallery (Regenburg, Germany) Artis 7 and 18 ", at Galería Post it (Havana, Cuba). He has attended international fairs such as "ART KARLSRUHE" Contemporany Art Fair or "ART BODENSEE", Contemporary Art Fair Liebe FreundInnen der Kunst in Dornbirn, Austria. He has also collaborated with more than 35 publications for Cuban and foreign publishers. His work, oil or acrylics, shows an excellent mastery of the art of portraiture and a palette of his own with which he represents familiar characters in strange characterizations. Roldán wonders about our identity, dual identities or even the loss of identity.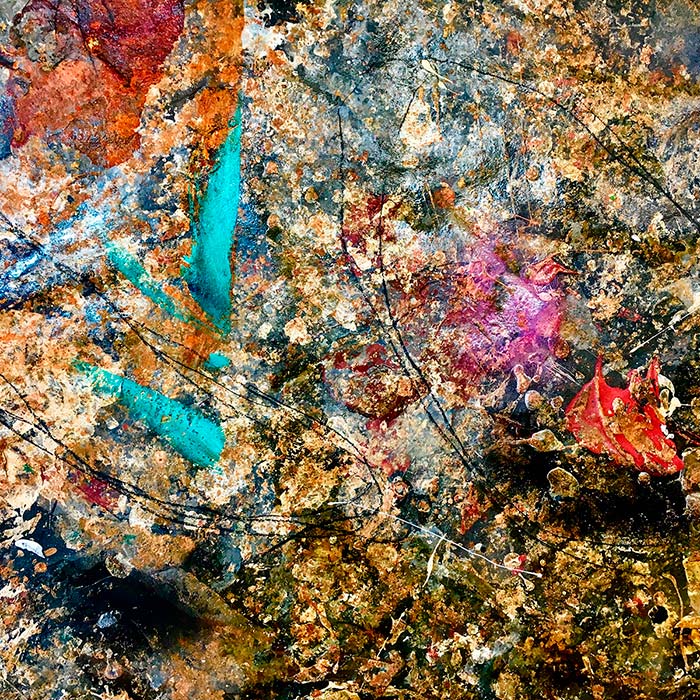 Aimée Joaristi. Higgs boson 2 - Mixed technique on paper - 80 cm x 80 cm - 2016
The Klaus Steinmetz Art Contemporary gallery was founded in December 2000. Since then they have performed dozens of exhibitions with many Latin American artists such as Luis González Palma, Javier Marín, José Bedia, Botero, Adriana Varejao, but it is in the international scene where they have been more active, participating in fairs such as Buenos Aires, Rio de Janeiro, Sao Paulo, Lima, Bogotá, Caracas, Miami, Monaco, Madrid and Basel. They have also participated in exhibitions in collaboration with museums and galleries from more than twenty countries. In May of 2013, the gallery triumphed with the most important exhibition of its history: a monograph of Peter Halley (New York, 1953) and his abstraction and expressionism in dialogue with the geometric painting.
To participate in Art Madrid, they present the work of Aimée Joaristi, Gabriel Rigo and Nanda Botella. Joaristi's painting has won great recognition at festivals and fairs such as the 5th Riga International Triennial in Latvia, the V Biennial of Guayaquil in Ecuador or the award obtained at the TAG Gallery, Brussels at the International Art Dubai Project. The work of Joaristi is expression and abstraction in pure state, taking the dripping and the stain to almost sculptural states.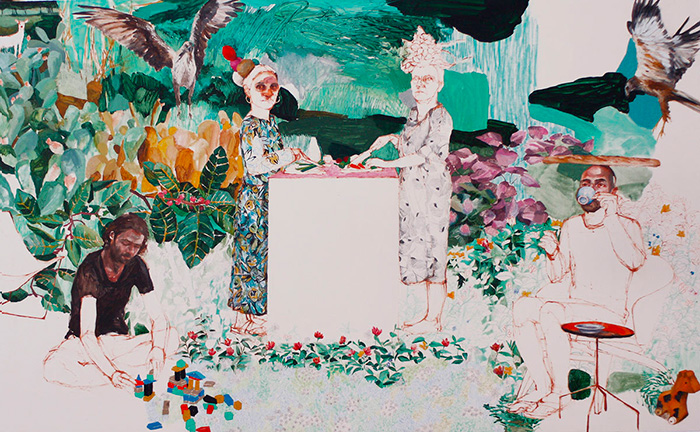 Mónica Subidé. Everydayness at risk of extinction -Oil, pencil and collage on wood - 75 x 120 cm - 2016
Yiri Arts was founded in 2014 with the spirit of being a "Every Days Art Museum" and the goal of makes art to penetrate and enrich people's lives. Through the curatorship, exhibitions, publications and international fairs, they present inspiring works full of vitality. They have galleries in Taipei, Taichung and Kaohsiung's Pier-2 Space, but also run multidisciplinary venues in Taipei, combining art and literature, and in 2014 they co-founded the Taipei Free Art fair, because they think art can be discovered anywhere.

Its freshness arrives to Art Madrid through the work of Chen Yun, Wang Guan-Jhen, Monica Subidé and Núria Farré. Catalan artist Mónica Subidé (Barcelona, ??1974), represented by Yiri Arts, has exhibited individually in the Eternal Espai, in Bj Art Gallery and in the Fidel Balaguer Gallery, all of them in Barcelona. He has also participated in collective exhibitions such as "Big and Feliceful 2.0" in Yiri Arts, Taiwan, Ramfjord Gallery, Oslo, Norway, Bj Art Gallery, Paris, France and in Catalan galleries like Esther Montoriol Gallery in Barcelona. His work, with certain influence of art brut, regains the taste for the draft and the origins of the drawing, and she mixes the pencil lines with energetic colored brushstrokes in apparently unstructured scenes and compositions.