10 WOMEN ARTISTS NOT TO MISS AT ART MADRID'22
Feb 15, 2022
art madrid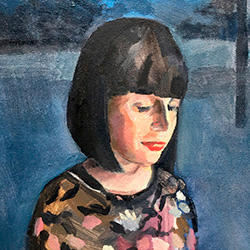 Selection by Natalia Alonso Arduengo
Guest curator at Art Madrid 20222
It is a fact that women artists represent a lower percentage in the largest museums worldwide collections, and in the secondary market the price gap between men and women is still notable. In recent years the art market has been correcting itself thanks to the visibility of great women artists in art history, and the support and commitment of experts, collectors and art lovers. In this edition of Art Madrid we do not want to miss the opportunity to focus on our contemporary women creators. It is a great moment to continue claiming the fundamental role of women in the history of art, there is not a better way to support female creators than acquiring their art works.
For years, Art Madrid has remained faithful to its commitment to make female creators visible at the fair. For this reason, both in the last edition curated program and in the current one, the curator wanted parity to be a fundamental criterion among the selected proposals. Inclusion is not forced, the great value of the creative women present in both editions has simply been taken into account. For this, in addition, the issue has been influenced, since the gender gap is a constant against which one must be alert and, for this reason, this selection has been prepared that seeks to legitimize the work of a group of women born in the decades of the 70s, 80s and 90s of the last century. Young and mid-career artists from countries such as Spain, Portugal, the United Kingdom, Venezuela, Russia, Ukraine, and Italy. His work deserves to be taken into account and, with this objective, we collect it and make it available to collectors.
ALINE SANCOVSKY (JACKIE SHOR ARTE) Sao Paulo (Brasil), 1961
Aline Sancovsky was born in 1961. She lives and works in São Paulo. Fine Arts course at the Armando Álvares Penteado Foundation in São Paulo. She lived in France, Canada and the United States where she continued her training. Many of her works are appropriations of common materials such as magazines, newspapers, seam patterns, steel cylinders, which create new meanings outside of their real functions. Today the studies on her work are more focused on numerical systems, maps, codes and the relationship of the elements that make up the Universe. In 2016 began her work on constellations and since then she has been observing with interest the universal laws of correspondence, oscillation, rhythm and vibration, among others.
ANITA SUÁREZ DE LEZO (HELAREA) Madrid, 1980
Fashion, architecture and oriental minimalism influence her work and are projected in her creations with shapes and colors that reflect her personality. The creative cycle of all her works is based on sketches that she makes and outlines digitally. She works mainly with collage and painting, including mirrors which she uses to add depth and movement to the piece, here the geometric figures and the sets of planes take on a life of their own. Her geometric designs are highly influenced by the architecture of New York, the city in which she lived and grew up, as well as by her approach to art, design and fashion, while the use of bright colors reflects the personality of the artist.
CAROLINA SERRANO (GALERIE ALEX SERRA) Funchal (Portugal), 1994
Carolina Serrano (Portugal, 1994) lives and works between Cologne and Lisbon. Serrano's work and research revolves around the temporal dimension of sculpture. The sculptural thought of the artist collapses, in a recurring way, with the notions of light and shadow; with the ideas of destruction and appearance; and with the duality between interior and exterior and between full and empty space. Serrano is interested in the concept of a restricted, inaccessible, and therefore unknown "place" and the uncertainty of its extension. In recent years Carolina Serrano has worked almost exclusively with paraffin for its plastic possibilities, such as the reflection of light, but above all for the theoretical and conceptual possibilities that this material can originate in the field of the observer's imagination. Serrano is also interested in the idea of ​​a potential spiritual transmutation and transubstantiation of the sculptural object.
CATARINA PATRICIO (GALERIA SÃO MAMEDE) Lisboa (Portugal), 1980
Catarina Patrício Leitão, artist born in Lisbon in 1980, researches in the area of ​​Culture Contemporary and New Technologies and is a professor at the University of Humanities and Technologies (ULHT). She graduated in painting from the Faculty of Fine Arts of the University of Lisbon (2003) and studied photography and wood engraving at the Fachhochschule Bielefeld, in Germany (2000). In 2008 she completed her Master's Degree in Anthropology of Social Movements at the Faculty of Social Sciences and Humanities of the University of Nova de Lisboa, where she received her Ph.D. in 2014 in Communication Sciences. Catarina is currently developing a work program in theory and practice of the arts, financed by the Calouste Gulbenkian Foundation. Her work is represented in various private collections in Portugal and abroad, as well as at the Amaro da Costa Institute, the Fundação Engenheiro António de Almeida, the Fundação Côa Parque and the Dietrich Mateschitz Collection (founder of Redbull).
ISABELLA DESPUJOLS (JACKIE SHOR ARTE) Varquisemeto (Venezuela), 1994
Visual artist focused on textile art, specifically manual embroidery. She graduated with a Bachelor in Fine Arts from the Miami International University of Art and Design, United States (2014) and a Bachelor of Art History from the University of Palermo, Buenos Aires, Argentina (2020). She has participated in different collective exhibitions such as: "Juried Show" at Curator's Voice Art Projects Gallery, Miami, USA (2014); "Young Art Show" at Espacio Cabrera, Buenos Aires, Argentina (2017); "1st Exhibition of Painting with Textile Intervention" at the Argentine Center for Textile Art, Buenos Aires, Argentina (2018); worked on a textile art installation at Casa FOA, Buenos Aires, Argentina (2019); participated in the group show "Gallery Artists" at the Periscópios Arte contemporânea gallery, Belo Horizonte, Brazil (2020) and in the SP-Arte fair together with the Jackie Shor Project (2020). Among her individual exhibitions are "Multiple Forms of continuity no espaço" at the Periscope Arte Contemporánea gallery in Belo Horizonte, Brazil (2021) and "Embroidered Geometry" at the Garaje Lola space, Madrid, Spain (2021). Her work is currently part of the collection of the Inhotim Institute Museum (2021).
JO HUMMUEL (VÍCTOR LOPE ARTE CONTEMPORÁNEO) Hampshire (Reino Unido), 1982
Jo Hummel conducts experiments in which the process often determines the outcome and provides a safe stage for improvisation. A place where rational procedures can coexist with intuition. In this way, she explores the unpredictable nature of intuition and spontaneity. Her practice works as a simulation of decision-making experiences that allow her to capture and use sensations such as anxiety or serenity. And it is through these contradictory emotional states of comfort, satisfaction, anxiety, revulsion, etc., that Hummel is able to tap into the state of human uncertainty that is felt everywhere. The social structures in which we live guide and interfere with how we feel and what we decide to do on a daily basis. Social class, religion, gender and ethnicity influence what we consider pleasant or unpleasant.
JUANA GONZÁLEZ (ARENA MARTÍNEZ PROJECTS) Ciudad Real, 1972
Bachelor of Fine Arts from the Complutense University of Madrid. Her work has been shown in different spaces such as Sala Robayera (Cantabria) and the Musée des Beaux-Arts de La Chaux-de-Fonds in Switzerland. She has been recognized with the honorable mention of the ABC Prizes for Painting and Photography (2003), the Contemporary Art Meetings of the Juan Gil-Albert Institute of Culture (2012) and the VIII Meeting of New Artists of Santiago de Compostela (2018). It is represented internationally by Galerie Tournemire (Paris, France) and Galerie 100 Kubik (Cologne, Germany), and nationally by Arena Martínez Projects. Juana González's work is developed in the disciplines of painting and drawing. The impressively sized paintings are stagings of characters involved in mysterious tasks in a complex and original set. Her style is inscribed at the same time in the expressionism, the surrealism and the narrative figuration.
KATYA SHEGLOVA (DR. ROBOT GALLERY) Moscú (Rusia), 1983
"My works are abstractions that look like portraits," she says. These luminous and simple portraits are on the border between the immediacy of the photographic image and the timelessness inherent in traditional portraiture. Shelled by the multiple reflections of the mirror, the faces of the characters seem distant and withdrawn, but their frontality and scale challenge the viewer. She works as an artist and as an actress. Her paintings demonstrate a sustained interest in the study of the perception of the human face. In her work she seeks visual forms with a sense of capacity and scale
OLI BERG (GALERÍA KREISLER) Kiev (Ucrania), 1982
Graduated from the Academy of Fine Arts of Ukraine and the BAU University of Barcelona. She lives and works in Barcelona. Her paintings combine shapes and bright tones and her monochromatic sculptures of pure colors, bring us closer to pop and the celebration of a intimate nature that at the same time is a tribute to the exuberance and natural power. Nature and landscape are fundamental references in her creations. Recreate a full-scale plant garden by entering an alternate world or fairy tale. The materials that shape her works are acrylic on canvas and steel, aluminum and ceramic for the sculptures.
LANTOMO (GALERÍA BAT ALBERTO CORNEJO) Italia
Antonella Montes, better known as Lantomo, is an artist of Italian origin and an architect by training. She studied at University of Rome although she currently resides in Barcelona while doing the Master's Degree in Scenography and Exhibition Design. After a long season in China that greatly influenced the development of her technique, she decided to give herself to her passion. Drawing is her tool of expression, direct and decipherable. In his black and white portraits with a clear Asian influence, there are many nuances, enhanced by the presence of touches of red. She has participated in various collective and individual exhibitions, exhibiting in cities such as Beijing or Barcelona.
Art Madrid'22 will have a consultancy space led by Ana Suárez Gisbert, a law graduate and expert appraiser with extensive experience in the art market. The advisory service will consider the different profiles, needs and preferences, thus generating a route and offering personalized guidance.
Request more information via email vip@art-madrid.com or sign up for the program with this form