VIDEO ART FESTIVALS IN THE MEDITERRANEAN BASIN
Jun 17, 2020
art madrid
The selection of video art that we enjoyed in the last edition of Art Madrid had the collaboration of 13 international festivals dedicated to video creation, experimental cinema and moving image. Mario Gutiérrez Cru, the director of the PROYECTOR video art platform, and the curator of the "Art Madrid-Proyector'20" action program, carried out an arduous task of selection and contact with these contests and exhibitions with the aim of offering a varied, enriching picture of the reality of global video creation. With the 13 international festivals invited, we had the unique opportunity to enjoy video art outside the usual exhibition circuits that this discipline occupies.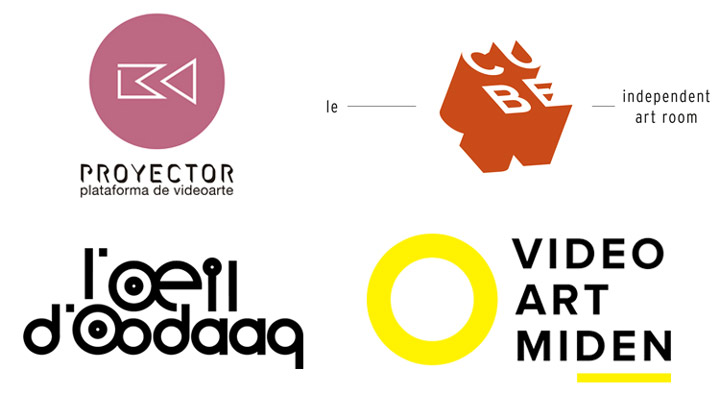 In addition to a prominent presence of Latin American exhibitions, the screening cycle also offered an interesting and different vision of initiatives from countries bathed in the Mediterranean. We refer to the selection made from PROYECTOR - Video Art Platform (Spain), Le Cube - Independent Art Room (Morocco), Oodaaq (France) and Video Art Miden (Greece).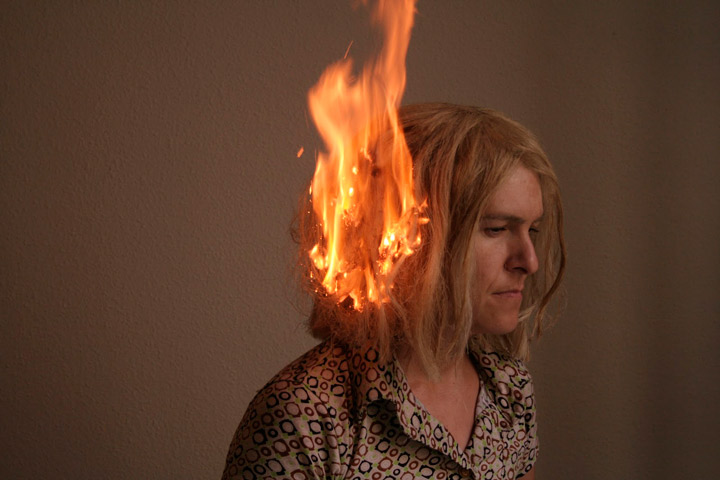 PROYECTOR - Video art platform offered us the possibility of getting to know the video-creation work of the artists who starred in the "Art Madrid-Proyector'20" program and who intervened through presentations, performances, talks or meetings. With this screening cycle we were able to delve into another of the creative facets of these authors and get closer to new perspectives on their work.
At the booth D5 of the fair, we could watch these artworks: "Terra Nullius" (2016) by Patxi Araújo; "Bildung (the growth of the I)" (2019), by Abelardo Gil-Fournier; "Na vibración" (2012), by Lois Patiño; "Acción 07_09_07#1/Fuego en la cabeza" (2007), by Olga Diego; "Nocturno" (2009), by Fernando Baena; "Música con pelos y señales" (2011), by Arturo Moya; "Panasonia" (2014), by Eduardo Balanza; "Partidura" (2016), by Eunice Artur; "Dividir por la línea dos libros" (2013), by Mario Santamaría; "Dystopia #1" (2018), by Iván Puñal, and "Procedimientos" (2014), by Maia Navas.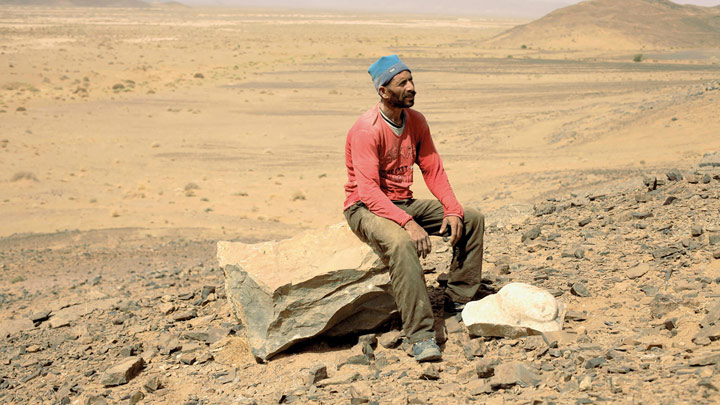 Le Cube - Independent Art Room (Morocco) is designed as an exhibition, residence and research space focused on contemporary artistic practices. Its approach revolves around projects that raise social, cultural, and political issues, and encourages proposals that challenge history and stories.
The selection made from Le Cube counted on the following art pieces: "Sisyphe" (2019), by Driss Aroussi; "Collective gestures/ performing with Strauss" (2019), by Maria Hanl; "People's park" (2017), by Camille Dumond; "How to remove writings from bills using nail polish remover" (2019), by Soukaina Joual, and "Achayet" (2018), by Abdessamad El Montassir.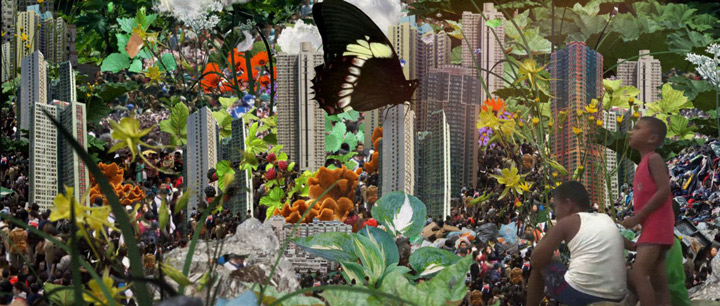 The Oodaaq Festival (France) was born in 2011 and every year offers an artistic trip through the city of Rennes. It brings together exhibitions, video art screenings, performances, installations in public spaces, conferences and round tables around nomadic and poetic images. The festival's program is divided between an international call for projects and a space open to local and international cultural structures.
Oodaaq was present Art Madrid with the artworks: "Window" (2013), by Aibhe Ni Bhriain; "Hajar" (2016), by Karou Calamy; "Black hole son" (2018), by Pete Burkeet; "Je suis allée" (2011), by Maria Ornaf; "Le park" (2015), by Randa Maroufi; "Please step out of the frame" (2018), by Karissa Hahn; "Field of infinity" (2018), by Guli Silberstein; "Panorama" (2014), by Giancula Abbate; "Untitled" (2013), by Christian Niccoli; and "Towards The Hague" (2016), by Sylvia Winkler & Stephan Koeperl.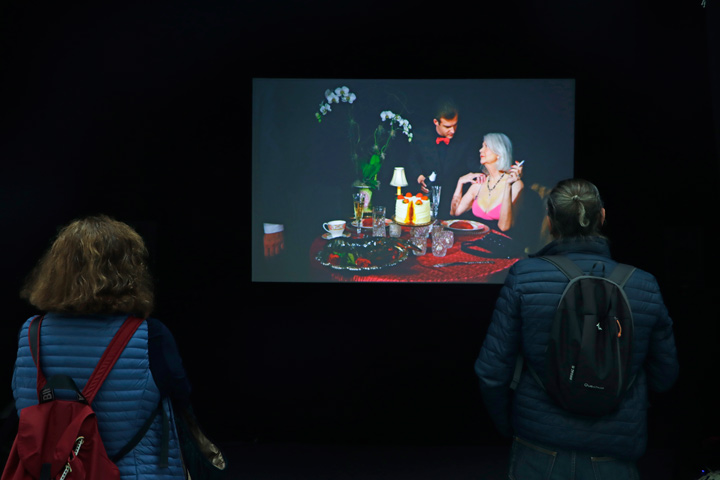 Finally, we complete this Mediterranean set with Video Art Miden, from Greece. Video Art Miden is an independent organization for the exploration and promotion of video art. Founded by an independent group of Greek artists in 2005, it has been one of the earliest specialized video-art festivals in Greece, setting as basic aims to stimulate the creation of original video art, to help spread it and develop relevant research. Through collaborations and exchanges with major international festivals and organizations, it has been recognized as one of the most successful and interesting video art platforms internationally and as an important cultural exchange point for Greek and international video art. Miden screening programs have traveled in many cities of Greece and all over the world, and they are hosted by significant festivals, museums and institutions globally.
This festival presented two video cycles at Art Madrid: "The way it looks back at you", curated by Gioula Papadopoulou and Maria Bourika, and "Anatomy of silence", selected by Gioula Papadopoulou.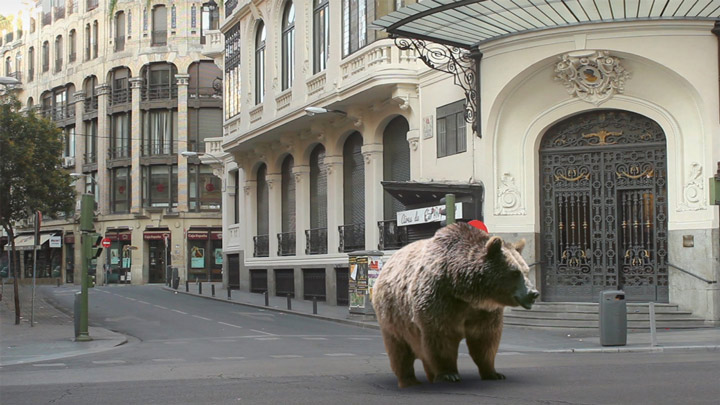 Cycle "The way it looks back at you". The present is the future of the past. What happens if you are trapped in a weird and dystopian present future? The program presents 8 videos which deal with a hypnotic re-cycling of time, creating powerful images coming from a world of dreams –or from a present future.
"Vortex", Alexandre Alagôa (Portugal 2017)

"Bestiari", Albert Merino (Spain 2018)

"Harvest", Chaja Hertog & Nir Nadler (Netherlands 2013)

"Intolerance", Tessa Ojala (Finland 2015)

"The Caller", Muhammad Taymour (Egypt 2017)

"Travel Notebooks: Bilbo", Silvia de Gennaro (Bizkaia- Spain & Italy 2017)

"Self-Portrait with Mother (Serve)", Gray Swartzel (USA 2018)

"Sunny Day", Marius Krivičius & Andrej Polukord (Lithuania 2017)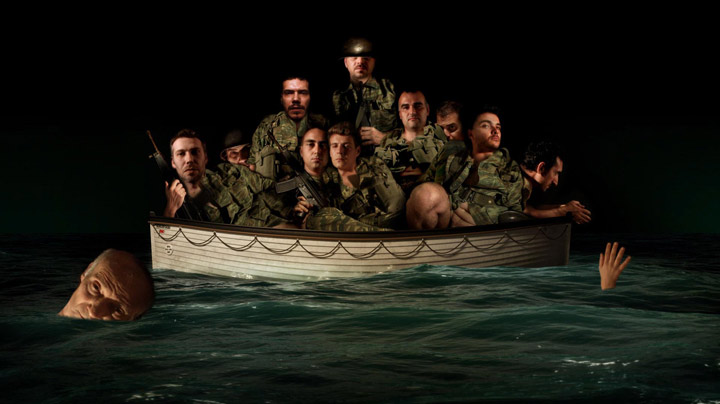 "Anatomy of silence" is a selection of Greek video art, which gathers visual works that silently but sharply comment on human existence, through strong symbolic images and minimalistic actions. The selection features 9 video works by acclaimed and emerging video artists from Greece.
"Ship of Fools", Babis Venetopoulos (Greece 2017)

"Through the WasteLand", For Cancel (Takis Zerdevas, Zoi Pirini, Makis Faros) (Greece 2018)

"The will", Makis Faros (Greece 2018)

"Fall", Gioula Papadopoulou (Greece 2018)

"Out my body", Poly Kokkinia (Greece 2005)

"Skin Shedding", Alexandros Kaklamanos (Greece 2016)

"Point", Fotis Kolokithas (Greece 2017)

"Reflex", Yiannis Pappas (Germany 2017)

"Popcorn Free Throws", Anna Vasof (Austria 2018)